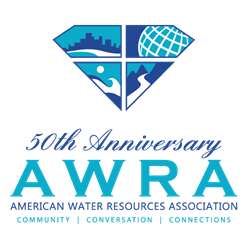 Meeting the challenges of the future will involve a collective effort at the national, regional and local level to succeed, and that is the idea behind the Open Water Data Initiative. -David Maidment, Professor of Civil Engineering, UT Austin.
Middleburg, VA (PRWEB) October 31, 2014
The American Water Resources Association (AWRA)--the premiere multidisciplinary association for water resource managers, scholars and students--and its Technology Committee, in coordination with The White House Climate Data Initiative; the Federal Geographic Data Committee; and the Advisory Committee on Water Information, will introduce a national discussion titled "The Open Water Data Initiative - Unifying Water Data for the Nation" during its Annual Water Resources Conference and 50th Anniversary Celebration at the Sheraton Tysons Hotel, Tysons Corner, VA, November 3-6, 2014.
The AWRA Technology Committee has organized an entire track surrounding the Open Water Data Initiative on Thursday, November 6, from 8:30am-5:00pm. Sessions in the track will include:
Session 61: Open Water Data 1 - Assessment of National Priorities. Moderator: David Maidment, Professor of Civil Engineering, UT Austin. A panel of high-level federal decision makers discusses the priorities for a national water data infrastructure. Panelists include: Jerad Bales, Chief Hydrologist, US Geological Survey; Tom Graziano, Chief of Staff, National Weather Service; James Dalton, Chief, Engineering and Construction, US Army Corps of Engineers; Joseph Nimmich, Deputy Administrator of FEMA, Dept. of Homeland Security.
Session 67: Open Water Data 2 - Lightning Talks - Data Access and Analytics. Moderator: David Blodgett, U.S. Geological Survey. Lightning talks on recent critical advances in data provision, access, processing and analysis.
Session 73: Open Water Data 3 - Lightning Talks - Modeling and Integration. Moderator: Dan Ames, Brigham Young University. Lightning talks highlighting innovative and proven models, as well as analytic and integrative applications that rely on ever-growing data stores and data streams.
Session 79: Open Water Data 4 - Panel on Digital Infrastructure Futures. Moderator: Jack Hampson, Atkins. Federal, regional, university and private partners envision what is possible with highly-available and reliable water and climate information. What can help each community find the best path to sustainable growth and resilience in the face of natural disasters? Panelists include: Al Rea, Co-Manager, National Hydrography Dataset, USGS; Kenneth Ashe, Deputy Director, NC Floodplain Mapping Program; Carey Johnston, Office of Compliance, EPA; Steve Kopp, Program Manager, Esri; David Maidment, Professor of Civil Engineering, UT Austin.
One day and full registration are available onsite at the Sheraton Tysons Hotel. Visit the conference website for registration rates.
Download the AWRA 2014 Conference App for a detailed program and speaker list. You can also follow real-time social media and conference updates through the app. Download the App by searching in the App Store™ and Google Play™ using keywords: AWRA 2014 Annual Conference.
Following the conference, several sessions - including the entire Open Water Data Initiative track - will be available for online viewing. Visit the AWRA website after the conference for a complete list of sessions and availability.
Other key sessions on the conference program include:
Opening Plenary, Monday, November 3, 8:30am: Dr. Kathryn Sullivan, Under Secretary of Commerce for Oceans and Atmosphere and NOAA Administrator will open the conference with a discussion around the topic "NOAA: Taking on Water Resource Challenges with Environmental Intelligence."
Opening Plenary Panel, Monday, November 3, 10:30am: Hear from leaders with their fingers on the pulse of the federal government's largest water resource management agencies, are involved in crafting water resources policy at many levels, and are responsible for managing water in the Nation's Capital. Moderator: Jerry Delli Priscoli, Senior Adviser on international water issues at the USACE Institute for Water Resources. Panelists include: Major General John Peabody, Deputy Commanding General for Civil and Emergency Operations, U.S. Army Corps of Engineers; Lynn Scarlett, Managing Director of Public Policy, The Nature Conservancy; John Anderson, Staff Director, House Transportation and Infrastructure Committee, Subcommittee on Water Resources and Environment, U.S. House of Representatives; George S. Hawkins, General Manager, District of Columbia Water and Sewer Authority.
Climate Change Track (throughout conference): Sessions on drought, agriculture, weather and more.
Water Quality Track (throughout conference): Sessions on standards, measurement, management and much more.
50 Years of AWRA and Water Resources Management Track (throughout conference): A retrospective track looking at 50 years of water resources management with key AWRA milestones interspersed.
About AWRA
Since 1964, American Water Resources Association has been dedicated to the advancement of water resources management, research and education, as well as a balanced approach toward solving water resources challenges. AWRA's membership is comprised of professionals who share a common interest in working and learning across a wide range of disciplines focused on water resources policy, practice and education. For more information visit http://www.awra.org.