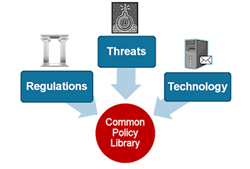 Build a single set of security policies to comply with multiple compliance frameworks.
Houston, Texas (PRWEB) December 30, 2014
Information Shield, the leading provider of pre-written Information Security Policies, today announced the release of the Common Policy Library (CPL) – an integrated set of information security policies that enables compliance with multiple regulatory frameworks with a single set of policy templates.
"Our work with hundreds of organizations helped us realize that adopting a single regulatory framework for security policies has many problems," said David Lineman, president of Information Shield. "We developed the Common Policy Library to enable any organization to quickly adopt and document a best-practice approach to information security that also maps easily to different compliance frameworks such as ISO 27002, NIST, HIPAA and PCI-DSS."
Many organizations struggle with managing compliance with multiple regulatory and IT security frameworks. The objective is to identify a single, unified set of information security controls that are both practical and enforceable. The Common Policy Library (CPL) enables organizations to quickly adopt and document such a framework, saving hundreds of hours of analysis and regulatory cross-mappings.
About the Common Policy Library
The CPL is a comprehensive library of information security and data privacy policies that is continually updated and mapped to key information security regulations and frameworks including ISO 27002, HIPAA, NIST and PCI-DSS. The CPL is designed to allow organizations to quickly define and demonstrate due-diligence in their information security posture. The Common Policy Library (CPL) is the next evolution of Information Shield's leading policy template library, Information Security Policies Made Easy, by Charles Cresson Wood.
Comprehensive Security Content
The CPL contains over 1600 sample information security policy statements and 40+ sample security policy documents that cover over 200 security topics. The CPL content is mapped into16 common information security Domains that represent a complete set of information security and data privacy requirements. Examples include IT Risk Management, Organizational Security, Data Classification, Access Control, Physical Security, Incident Response, IT Business Continuity and Data Privacy. The CPL is available as part of the PolicyShield Security Policy Subscription, which also provides a platform for managing security policy updates.
About Information Shield
Information Shield provides time-saving products and services to help build, update and maintain information security policies. Based in Houston, Texas, Information Shield has over 10,000 satisfied customers in 60 countries. . For more information, visit http://www.informationshield.com, email sales(at)informationshield(dot)com or call 1.888.641.0500.