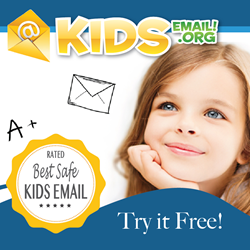 Parents will enjoy the increased safety features like the GPS tracking
Arbon, Idaho (PRWEB) November 26, 2014
Family-friendly email service provider Kids Email® is announcing the release of an updated version of its iOS Kids Email® App. The latest iteration of the app comes with several new features including GPS tracking, enhanced email monitoring, picture drawing functionality, and an updated intuitive interface.
Along with GPS tracking, which allows parents to know their child's location, the app gives parents the ability to intercept and delete emails in the mail queue that may have failed predetermined safety checks. The parent can either approve the email or deny and delete it before it reaches their child.
"The latest iteration of our iOS App is the best one yet. Our developers did a great job. Our iOS and Android mobile apps are becoming a major part of what we do because of proliferation of smartphones, and more specifically, the numbers of kids who now use them. Children will love the new picture drawing capability, which allows them to create pictures and send them to their friends and relatives. Parents will enjoy the increased safety features like the GPS tracking," said Kids Email® founder Jacob Andersen.
The Kids Email® App is available in the app store and can be downloaded for free. The app is compatible with iPhone, iPad, and iPod Touch.
"With kids and parents on the go, it is essential they be able to stay safe but have the ability to still use Kids Email®. Our iOS App gives them that ability," Andersen went on to say.
About KidsEmail®
Launched in 2009, KidsEmail.org is a safe email service designed to protect kids ages 4 to 12 from Internet dangers including cyberbullying, pornography, predators, and email from strangers. This service allows kids to only send emails to and receive emails from people on their contact list while also allowing parents to monitor email conversations. Kids Email Visit http://www.KidsEmail.org to learn more and to sign up for a free trial.