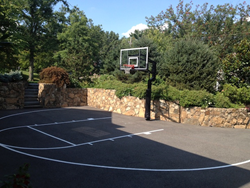 Unlike an encounter with Dracula, the price on a Patriot isn't a blood sucker.
Morristown, NJ (PRWEB) October 29, 2014
In the spirit of the holidays, and not to #holidaycreep on Thanksgiving, Hanukkah and Christmas, Home Court Hoops has decided to draft up a little Halloween Special article and name each of our systems after a classic Halloween character.
To read more about how SCARY GOOD these systems are, the reader can find all the info below the video and there are links to each one beside their description.
1. American Eagle Patriot Series: (Click Here)
The Dracula Special
I call the Patriot Series Dracula because, from this list, the Patriot is the only system with an awning crank. And.... because Dracula is the only one in this list that can fly, well, there you have it. Like Dracula is probably the most popular of the Halloween characters, the Patriot is easily our most popular product. The one main difference between the Patriot and Dracula is the price. Unlike an encounter with Dracula, the price on the Patriot isn't a blood sucker.
Spine-chilling price for a Patriot 60 w/ personalized pole bad for $1,550.
2. AH60 Series: (Click Here)
The Wolfman Howls
I must confess. I don't have a lot of material when it comes to Wolfman. My recollection comes entirely from the movie Wolf with Jack Nicholson and Michelle Pfifer. (Well, that and Teen Wolf but I don't think he was a Halloween character.)
Hair-raising rates on an AH60 w/ install & stencil for $2,100. (This deal is making me scared.)
3. AY60 Series: (Click Here)
The Mummy Returns
The movie classic Mummy is one of the lesser-known Halloween characters. He's often overshadowed and falls in the middle between the Frankenstein and Dracula characters. However, once you spend some time and judge him on his merits, he's a quality character. (Heck, the remake made the career for The Rock.)
Get all wrapped in a personalized pole pad w/ your AY60 for $2,100. (Get it? Wrapped.)
4. AY72: (Click Here)
The Bride of Frankenstein
The Bride of Frankenstein did all the work yet all the credit was given to Frankenstein. She was smarter, prettier and much more well adjusted. The only thing Frankenstein has that she doesn't have are those long arms he's always sticking out in front of him.
The Bride of Frankenstein needs to be appreciated more. Not only is she sensitive to the lack of attention paid to her by Frankenstein, but she's concerned about her size. She's big-boned and would feel much better is we could get her from her cost of $2,100 to below $2,000. So we, unlike Frankenstein, have listened to her and brought her price down to $1,800. (Unfortunately, there will still be the standard installation costs. Don't be scared. They won't make you say boohoo.)
5. AY72XL: (Click Here)
The Frankenstein Special
Frankenstein is the biggest Halloween character as far as size is concerned. He is the tallest; has a head so big it has to be held together with bolts and, as discussed, always walks around with his long arms sticking out.
Feeling the pressure from his lovely bride, Frankenstein, for the month of October, has decided to live the rest of the week in his Bride's shoes and go for $2,100 plus