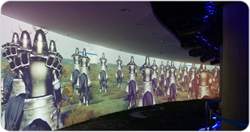 This visually-arresting 360-degree projection mapping performance is a fitting tribute to Jangar at this magnificent venue.
Beijing, China (PRWEB) November 05, 2014
Christie®, a global leader in visual display solutions, together with its Chinese partner Wincomn Technology, assisted the Jangar Culture & Arts Palace to present an engaging 360-degree projection display to honor Jangar, one of the most respected Mongolian folk heroes.
Located in the Hoboksar Mongol Autonomous County in China's Xinjiang Uyghur Autonomous Region, the recently opened Jangar Culture & Arts Palace is a majestic circular-shaped museum measuring over 6,000 square meters. It took four years to complete. The four-story structure features an elaborate showcase of Jangar's life story and the rich heritage of Mongolian culture. One of the biggest highlights is the permanent 360-degree visual display on the first floor that recounts the Mongolian Khan's heroic exploits with spectacular visuals made possible with eight Christie DS+6K-M 3-chip DLP® projectors.
Beautifully displayed on a continuous flat screen measuring 12 meters wide by 4 meters high and using Christie Twist™, which offers seamless edge blending and color matching capabilities, the 10-minute show features highly realistic imagery and sound effects for an immersive experience. Wincomn Technology was responsible for the design, selection, installation and commissioning of the overall audio, visual and control solutions.
"The contents of the projection mapping performance are based on the Jangar Epic, a unique form of Mongolian storytelling and dance dating back to the 15th century," said Zhiqiang Liu, project manager, Wincomn Technology. "We are very proud and honored to present one of the three great epics of ancient Chinese literature through projections on a 360-degree screen, and are pleased that the deployment of eight Christie DS+6K-M projectors have enabled us to provide visitors with a high quality and immersive viewing experience."
Lin Yu, vice president, Christie Asia Pacific, added, "We are thrilled that Christie's robust M Series projectors have been used for the first time to recount the amazing story of Jangar, who was elected Khan at just seven years of age, defeated the monster Mangus with his mighty warriors and established a Mongolian-style utopia. This visually-arresting 360-degree projection mapping performance is a fitting tribute to Jangar at this magnificent venue and it is an honor for Christie to play a role in breathing new life to this legendary folk hero and helping Jangar Culture & Arts Palace to create memorable shared experiences."
Noted as a flexible, efficient 3-chip DLP® digital projector, the Christie DS+6K-M is easily tailored to meet the needs of the end user. The projector comes in a sleek, compact chassis and is equipped with a full set of options, including 2D and 3D capability. It also contains a dual lamp system, offering high efficiency and low cost of ownership.
The Christie M series projectors additionally come with features such as Christie Twist and Comprehensive Color Adjustment to ensure unparalleled edge blending capability and color uniformity across the entire display. This is a critical benefit for larger scale projection mapping projects, such as this 360-degree projection mapping performance at Jangar Culture & Arts Palace.
About Christie
Christie Digital Systems USA, Inc. is a global visual technologies company and is a wholly-owned subsidiary of Ushio, Inc., Japan. Consistently setting the standards by being the first to market some of the world's most advanced projectors and complete system displays, Christie is recognized as one of the most innovative visual technology companies in the world. From retail displays to Hollywood, mission critical command centers to classrooms and training simulators, Christie display solutions and projectors capture the attention of audiences around the world with dynamic and stunning images. Visit http://www.christiedigital.com.
Follow us:
Facebook.com/christiedigital
Twitter.com/christiedigital
Christie® is a registered trademark of Christie Digital Systems USA, Inc., registered in the United States of America and certain other countries. Christie Twist is a trademark of Christie Digital Systems USA, Inc. DLP® is a registered trademark of Texas Instruments.