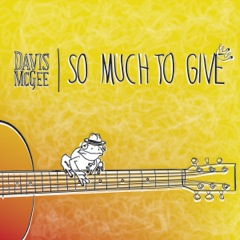 Orlando, FL (PRWEB) October 29, 2014
At just 20-years-old, Central Florida singer-songwriter Davis McGee is set to release his latest single "So Much To Give" and continue impressing audiences with his magnetic songwriting and smooth vocals, talents which have landed him on the mic at more than 400 live performances over the past two years. Having recently returned to his hometown Orlando after joining Grammy-winning headliners America and former members of Journey, Boston and Lynyrd Skynyrd on a music-themed cruise, the stage is set bright for this hard-working musician to take his young career to new heights. "So Much To Give" is McGee's fourth original release, following up on his "Nicer Here" single in 2013. These engaging tracks join a significant collection of 25 plus originals written and performed by McGee himself.
With a unique sound that is a laid back mix of acoustic, island and alternative styles, McGee's songwriting has earned him recognition from numerous organizations like the Durango Songwriters Expo, Dallas Songwriters Association, Nashville's Tennessee Concert Series, International Songwriting Competition and Unsigned Only. On his first two singles, McGee worked with veteran producers in Orlando and Nashville, including multi-platinum producer and songwriter Gary Carolla. "Working early on with industry pros like Gary gave me opportunities to learn the recording process at a high level from the first scratch tracks to final mastering," says McGee. The studio know-how that McGee absorbed is found throughout "So Much To Give," which features McGee as the track's producer, as well as on guitars, vocals and as the sole songwriter.
The mid-tempo "So Much To Give" opens with a recurring acoustic guitar motif, which soon gives way to the track's subtle builds and turns. McGee is known for writing lyrics with a grace and depth that seem well beyond his years, and "So Much To Give" is no exception. "My new song has a lot to do with moving on from whatever is holding you down," says McGee. "That's what I hope people get from it – to put the past away and stay positive. I'm very happy with the feel of this track, and I'm grateful for all the support from the community. I look forward to gaining more fans and continuing to do what I love, which is create, play and share my music."
On his path to notoriety, McGee achieved a significant step by taking the Florida Music Festival stage at just 16-years-old, and he has been a part of the Florida Music Festival circuit every year since. Before turning eighteen, McGee was playing multiple gigs monthly at several Orlando-area venues and has since performed in over 40 popular Central Florida stomping grounds including Graffiti Junktion, Sea Dog Brewing Co., Yellow Dog Eats, The Basement, Vanbarry's Public House and many more.
Now, with hundreds of performances already behind him and dozens more original songs to offer, McGee's future looks promising. Get your copy of "So Much To Give" on iTunes and Amazon starting November 5. Get a sneak preview and listen at https://soundcloud.com/davis-mcgee/so-much-to-give-rough-mix-clip/s-7KDol. For more news and information on Davis McGee, future performance dates, album releases and appearances, visit http://www.davismcgee.com.
###
MEDIA CONTACT: Ilene Lieber, 321-277-7812, ilene(at)passionprconsulting(dot)com