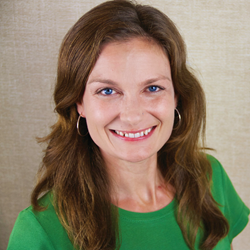 The reality is that unhealthy foods surround us every day of the year. It's an important life skill to be able to make healthy choices. Halloween is a great opportunity for kids to learn the importance of self-regulation and finding a healthy balance.
(PRWEB) October 30, 2014
Halloween is naturally an exciting day out of the year for kids to get dressed up and have fun. However, most health-conscious parents don't appreciate the mass consumption of sugary candy associated with the holiday. Every year, Registered Dietician Kristen Yarker receives an influx of calls from parents asking how to handle their kids' Halloween candy in a way that supports their nutritional needs, but without adding a battle over food to an already hectic day.
Yarker shares, "The reality is that unhealthy foods surround us every day of the year. It's an important life skill to be able to make healthy choices. Halloween is a great opportunity for kids to learn the importance of self-regulation and finding a healthy balance."
Yarker has developed the following tips for managing kids' Halloween candy based on studies that researched various parenting strategies for handling junk food at home and the correlating impact on children's life-long eating habits.
For the parents of toddlers and preschoolers, Yarker advises taking advantage of their young children's naiveté and short attention span by limiting the number of stops during trick-or-treating to two or three homes. In doing so, toddlers and preschoolers get to be involved in the fun of the holiday, but without resulting in an overload of candy.
Tips for Parents of School-Age Children:
1. Fill Those Tummies: Parents should fill their kids' tummies before going trick-or-treating with one of their favorite healthy meals. As a result, they'll have less of an appetite left for candy.
2. Celebrate the Haul: After returning home from trick-or-treating, Yarker recommends that parents let kids pore over their hauls and get excited about the treasure that they've been looking forward to collecting for weeks.
3. 'Switch Witch': Also referred to as the 'Candy Fairy', Yarker states that this new Tooth Fairy inspired tradition is quickly gaining momentum. Children can choose to leave their candy out overnight for the Candy Fairy to take in exchange for money. In some communities, dentists and other health professionals are getting in the act so that parents don't have to pay out-of-pocket. Yarker emphasized the importance of giving kids the choice of either keeping their candy or leaving it for the 'Switch Witch' in order to provide them with the opportunity to learn how to self-regulate with candy.
4. Structure and Choice: For kids who decide to keep their candy, Yarker recommends parents let them eat as much as they want on Halloween night as a part of the one-day celebration. However, she advises that eating patterns return to normal the next day, with preplanned meals and snacks. Using this strategy, parents then have the power to choose when to incorporate candy into the menu, alongside items from 2–4 different food groups per usual. During meals or snacks in which candy is included, children get to decide how much of it they eat—possibly resulting in kids eating nothing but candy for that meal/snack. However, Yarker reminds parents that it's only once per day and in the end, it will cause kids to eat through the candy faster. Yarker goes on to recommend creating balance by not providing other treats during other meals of the day, i.e. steering clear from sugary breakfast cereals, sugary granola bars, and dessert after dinner.
Yarker shared an additional strategy to help older, school-age kids who pack their own lunches to understand healthy eating. Her strategy advises parents to determine how many pieces of candy their child is allowed to pack for lunch. Children then get to decide which pieces of candy they want to take, providing them with the sense of independence sought after at that age. Parents are still able to balance their child's diet, offsetting the candy by withholding treats at other meals provided throughout the day.
Yarker shares advice on meeting kids' nutritional needs today and helping children establish life-long healthy eating habits on her blog at KristenYarker.com/Blog.
About Kristen Yarker, MSc, Dietitian:
Child-feeding expert Kristen Yarker, MSc, Dietitian, has been helping Moms and Dads to support their picky eaters to try new foods since 2008. Yarker's approach to children's nutrition is honest, practical, loving and evidence-based. As a dietitian with the British Columbia Ministry of Health, Yarker developed numerous province-wide nutritional resources, including the Healthy Eating chapter in Toddlers First Steps. After helping friends overcome their children's picky eating habits, in 2008, Yarker decided to open her own business to support even more families. Yarker now offers workshops online, an e-book, blog and additional resources to help families worldwide. For more information, visit http://www.KristenYarker.com.