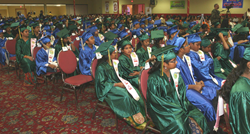 For the first time, Telugu University conducts exams for students learning Teugu in USA and awards diplomas to graduates.
Sunnyvale, CA (PRWEB) October 30, 2014
The graduation ceremony jointly hosted by Silicon Andhra and Potti Sreeramulu Telugu University on Sunday, October 26, at Sunnyvale in California, USA, was a huge success. Silicon Andhra, through its program ManaBadi, conducts Telugu classes in 40 states of the United States, as well as in 13 other countries including Canada, Kuwait, UK, South Africa, Australia and Ukraine with about 4500 students learning Telugu.
University Exams for the first batch of 400 Juniors (3 years of learning) and Seniors (5 years of learning) were conducted on the 18th and 19th of October. 99% of the students taking the exam has cleared the qualification criteria. For 200 of the graduated students, a first of kind graduation ceremony was conducted. For other graduates spread throughout the country similar events will be hosted in future.
The University's Vice-Chancellor, Dr. Elluri Siva Reddy, presided over the event and awarded the graduates with certificates. Present on the dais were ManaBadi Dean Raju Chamarthi, CFO Deenababu Kondubhatla, Chairman Anand Kuchibhotla, President Vijaya Saradhi Madabushi, Director of International Telugu Center (PSTU) Dr. Muniratnam Naidu, PSTU Public Relations Officer Dr. Y. Chennaiah, Controller of Examinations Dr. Reddy Syamala, ManaBadi Team Sridevi Ganti, Sriram Kotni, Santhi Kuchibhotla, Sarath Veta, and Vice Chairman Dilip Kondiparti.
Mr. Anand Kuchibhotla said that the long-time dream of Silicon Andhra to see kids in foreign countries learn Telugu in a traditional way had finally been fulfilled. Mr. Raju Chamarthi mentioned in his speech that about 800 volunteers are working tirelessly to teach a curriculum designed by the University. Prof. Elluri Siva Reddy in the Graduation Speech said that Telugu has been recognized as one of the World Languages, and about 150 million people speak Telugu worldwide today. He praised Silicon Andhra in its efforts to teach Telugu while abiding by the University's rules and regulations. Mr. Deenababu Kondubhatla said that ManaBadi teaches Telugu to students not only from Telugu speaking families, but also from American families of other cultures. He said the American government has recognized Telugu to be learnt as a World Language by using SiliconAndhra ManaBadi curriculum. ManaBadi Dean Mr. Raju Chamarthi felicitated Fremont School District officials who had already recognized Telugu as a World Language.