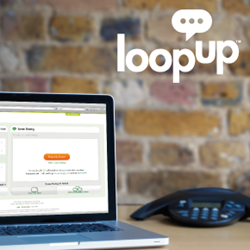 Now is the time to build on LoopUp's considerable product and market success so far and accelerate their growth to the next level.
London, United Kingdom (PRWEB UK) 30 October 2014
LoopUp, the provider of simple, pain-free conference calls and online meetings, today announced that Barmak Meftah, President and CEO of AlienVault, has joined the company's board of directors. AlienVault is the leading provider of Unified Security Management solutions and crowd-sourced threat intelligence.
"We're delighted to welcome Barmak onto our board," said Steve Flavell, co-CEO of LoopUp. "Barmak has an impressive track record of success in Silicon Valley, and his experience in enterprise software in general, and knowledge of B2B SaaS in particular, will be invaluable as we continue up our rapid growth curve at LoopUp."
Barmak is a 20-year technology industry veteran, whose latest mission is to take the incredible people, passion, and technology that he found at AlienVault and build it into an industry leading company. Prior to AlienVault, he served as VP of the Enterprise Security Products division at HP, who acquired Fortify where Barmak was Chief Products Officer. Barmak also served in several senior management roles at Sychron and Oracle Corporation. He also serves on various technical advisory boards and is a limited partner and advisor to a number of venture capital funds.
"I'm looking forward to taking part in this next phase of LoopUp's growth," said Meftah. "LoopUp's SaaS conferencing solution stands out from the competition and solves some pretty classic frustrations professionals have endured for years. It leads users to richer collaboration in a really accessible and natural way. Now is the time to build on LoopUp's considerable product and market success so far and accelerate their growth to the next level."
The LoopUp Board is chaired by Mike Reynolds and comprises Barmak Meftah, Nico Goulet of Adara Venture Partners, investor Andrew Scott, and co-CEOs Steve Flavell and Michael Hughes.
About LoopUp
LoopUp's award-winning SaaS solution makes conference calling less painful and collaboration easy. We help thousands of businesses host more productive remote meetings without classic annoyances such as not knowing who's joined, background noise, and difficulties sharing content. LoopUp alerts you when your first guest arrives, calls out to you when you wish to join, shows you who's on and who's speaking, and lets you share your screen with a click. LoopUp sells direct to the enterprise market and via distribution partners including Alcatel-Lucent Enterprise, BT and Cable & Wireless Communications. For more information, visit LoopUp at loopup.com; read our industry views at loopup.com/blog; follow us on Twitter @LoopUpTeam.