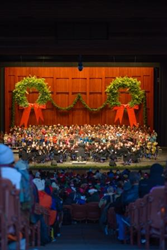 "...bring your family, a candle, your singing voice, and your jingle bells. What better way to kick off the holiday season?"
Vienna, VA (PRWEB) October 30, 2014
Kick off the holiday season at Wolf Trap's 2014 Holiday Sing-A-Long! The community event will take place Saturday, December 6 at 4:00 p.m. at the Filene Center at Wolf Trap National Park for the Performing Arts.
This annual celebration features "The President's Own" United States Marine Band on stage with hundreds of local choristers, plus a community sing-a-long of holiday favorites. "Special guests" for the performance include Rudolph, Frosty the Snowman and Santa Claus.
Following Wolf Trap tradition, patrons bring bells to participate in "Jingle Bells," and candles for an elegant candlelight procession set to a traditional performance of "Silent Night." Other holiday favorites on this year's program include "O Come, All Ye Faithful," "Let it Snow," "Hanukkah Dance" and "Dreidel."
Prior to the Holiday Sing-A-Long, Wolf Trap will host a Toys for Tots collection at the entrance of the Filene Center. Patrons are encouraged to bring new, unwrapped toys, which will be donated to children in the greater Washington area. Toy donations are voluntary and are not required for admission.
The Holiday Sing-A-Long began in 1968 when Wolf Trap's founder, Catherine Filene Shouse (1896-1994), invited local church choirs to her home to sing Christmas carols and share in holiday cheer. Since then, it has grown into a Washington-area holiday tradition. Each year, thousands of families and a multitude of volunteer singers from community churches and choral groups fill the house at the Filene Center to share in the holiday spirit.
Wolf Trap president and CEO Arvind Manocha stated, "The Wolf Trap Holiday Sing-A-Long is a tradition that celebrates everything that's great about our community: generosity, through the Toys for Tots collection; service and volunteerism, with performances by the Marine Corps Band and local choirs; and the spirit of togetherness that is made possible by live music. It's a free event - just one of many ways Wolf Trap gives back to our community – so bring your family, a candle, your singing voice, and your jingle bells. What better way to kick off the holiday season?"
Calendar Listing/PSA
On Saturday, December 6 at 4:00 p.m., kick off the holiday season at Wolf Trap's free Holiday Sing-A-Long at Wolf Trap National Park for the Performing Arts. No tickets are required, but patrons are encouraged to bring an unwrapped toy donation for Toys for Tots. For more information, visit wolftrap.org.