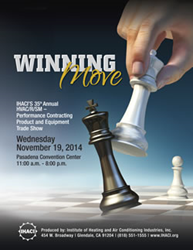 Pasadena, CA (PRWEB) October 29, 2014
Uniweld Products will be exhibiting at this year's IHACI Show in Pasadena, CA. They are excited to show off some of their new products at booth #522. Make sure to stop by Uniweld's booth for live product demonstrations on brazing with nitrogen using the NitroVue™ Flow Indicator and the 5-Flame Cap'n Hook Tip. Booth visitors can also get a hands-on experience taking the EZ Turn™ Challenge which shows how well Uniweld's patented new EZ Turn™ hoses work while under pressure. You really have to feel these new hoses to believe it! Other products being featured include the aluminum Spirit Manifold, the VaporVue® charging device, the 20n1 Ratchet Screwdriver, and many more!
The IHACI Show is the largest HVAC/R Performance Contracting trade show in the west and will take place at the Pasadena Convention Center in Pasadena, CA on November 19, 2014. Trade Show hours are from 11:00am – 8:00pm. Don't miss out on this exciting event! We hope to see you there.