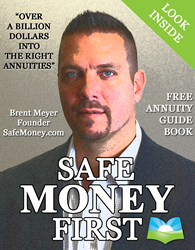 The Inside Scoop to Annuities
Cherry Hill, NJ (PRWEB) October 30, 2014
When it comes to their retirement planning, people should understand the difference between captive and independent advisors. This distinction can have a tremendous impact on the advice and financial guidance which investors receive for their retirement income planning, says Brent Meyer, conservative wealth planner and co-founder of Safe Money Resource.
"Financial advisors who work for only one insurance carrier are known as 'captive advisors.' They're obligated to give business to only that insurance company, and they receive compensation from it when they meet their quotas. As a result, they're allowed to recommend this parent company's offerings and nothing else," explains Meyer, who also serves as President of Safe Money Resource. "They can't suggest any options from other companies, even if those are better for specific client needs. In other words, captive advisors can't offer the versatility and range of consumer options that independent advisors present."
Unlike captive agents, independent agents are not tied down to just one insurance carrier. They have relationships with a number of companies. Therefore, they can offer a broader selection of retirement investment options than captive advisors are able to render. Independent advisors also hold an advantage over captive advisors in the financial guidance they can provide. Because they are associated with many companies, they can compare pricing, products, features, and services offered by a variety of insurers. Alternatively, captive advisors are limited to discussion of the products and services extended by their sponsoring company.
For consumer education, Safe Money Resource has published a new, comprehensive guidebook on annuities and effective retirement planning. Among other updated content, this complimentary resource goes over the differences between captive and independent financial advice. In it, financial consumers can find information on the following elements:

Why independent advisors can engage in cross-selling of multiple products and financial policies
Some of the 'behind-the-scene' factors for why captive advisors are beholden to their parent company
How captive advisors rely upon their parent company for products, and how this can affect their firm's performance and the client options they offer
How captive and independent advisors differ in terms of the resources they utilize when starting out
The true differences between independent and captive advisors in terms of product versatility, scope of financial advice, and how they can offer personalized financial guidance
So much more
Entitled "The Inside Scoop to Annuities," the guidebook can be downloaded at: http://safemoney.com/free-guide.
On top of the guidebook, Meyer explains the website SafeMoney.com as a one-stop center for comprehensive financial education. There, information seekers can find more articles and resources on timely financial topics, including annuities, life insurance, long-term care insurance, Social Security, IRAs, retirement income planning basics, and sound principles for estate planning. Other website sections address current "hot topics" in financial planning. These include lifetime income riders, required minimum distributions, and different vehicles for a guaranteed lifetime income.
SafeMoney.com also connects retired and aging investors to a network of licensed, independent advisors. These dedicated professionals help clients navigate the complexities of the sprawling financial marketplace and identify financial pathways that best fit their unique goals and objectives. On the whole, Safe Money Resource operates according to the highest standards of professionalism and integrity. Before it recommends a product or service to its advisor network, Safe Money Resource's dedicated staff vigorously researches, analyzes, and evaluates the offering's features, benefits, and downsides.
"At Safe Money Resource, we're committed to connecting you to the most qualified and dependable financial planning experts nationwide. We've taken time and efforts to establish relationships with independent advisors who have proven their commitment to client needs and financial security," Meyer stated. "Our team is here to help you achieve your financial objectives however we can. Give us a call today at 877-GROW-SAFE (877-476-9723). We look forward to earning your business and helping you achieve lasting peace-of-mind."