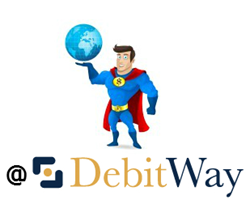 We understand that not everyone is aware of just how simple it is (with the proper guidance) to implement payment solutions that work.
Montreal, Quebec (PRWEB) October 30, 2014
DebitWay has been quietly helping the social gaming industry for the better part of a decade. The Montreal, Quebec based alternative payment service provider known for providing both payment solutions and counsel to its merchant partners has redoubled its commitment to helping independent game developers.
"We have never understood why such intelligent, hard working and driven professionals (independent game developers) would give away vast percentages of their payment revenue to big box companies," said Rod Tomita, Director of Business Development & Production, who added, "We understand that not everyone is aware of just how simple it is (with the proper guidance) to implement payment solutions that work."
While it has become almost routine for independent game developers to sign on with big corporations in order to promote and sell, thereby dealing with all the payment logistics, their games, today's reality is that indie game developers have all the tools needed to sell their own products readily available and easily accessible. Should an indie game developer opt to sell his or her video game on his or her website, DebitWay offers a wide array of payment methods:

Interac Online Payment – Direct debit transactions for Canadian consumers
Direct Debit Transaction – Global debit transactions for international consumers
Electronic Funds Transfer – ECHECK processing for Canadian consumers
Automated Clearing House – ECHECK processing for American consumers
Credit Cards – Major Credit Card Processing for all consumers
The provision of payment solutions notwithstanding, DebitWay has also created a "Loyalty Program" designed to be easily tailored to any merchant partner's specific needs. The "Loyalty Program," launched in 2013, was initially conceived for gaming merchant partners, once more reaffirming DebitWay's dedication to helping those entrepreneurs in the Gaming industry. This loyalty program is now celebrating it's 1 year anniversary and DebitWay has added new payment options to go along with it.
With Christmas right around the corner, DebitWay is looking to help independent game developers challenge the current status quo. "If you can sell your game on your website, we can make sure your gamers can pay you for that game" emphatically urged Rod Tomita.
Headquartered in Montreal, Canada, since 2004, DebitWay continues to be one of the leading Payment Service Providers in the world, as well as a Certified Payment Provider of INTERAC® Online Payment (IOP) solution in Canada. DebitWay merchant partners continue to benefit of being able to accept bank payments in real-time instantly.