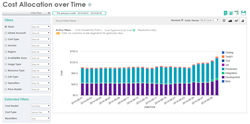 San Francisco, CA (PRWEB UK) 30 October 2014
Cloudyn, the leading solution for cloud monitoring and optimization, today announced the general availability of Cost Allocation 360°, an industry-first tool that offers enterprise customers complete management to track and allocate all cloud costs. Cloudyn's Cost Allocation 360° is fully customizable, enabling business unit and project leaders to make custom definitions of cost entities (business units, sales regions, departments, etc.) coupled with the most flexible and comprehensive cost category creation and tagging functionality for effective measuring and reporting on the metrics that matter most to a business.
Notably, Cloudyn's new tool integrates and analyzes all cloud cost information and supports enterprise customers that maintain single, hybrid or multi-cloud deployments running on different platforms such as AWS, Google's GCP or Openstack environments.
Enterprises with large cloud deployments spanning multiple business units, projects, regions, and groups are in dire need of an efficient, simple, structured system to tag resources in order to allocate associated cloud costs. Yet clarity into actual cloud usage continues to be a significant challenge. Currently around 50% of cloud resources go uncategorized or are improperly tagged or allocated.
"Here at Mi9, IT is responsible for fostering accountability among our different teams using the AWS cloud," said Peter Du, Head of Technology Operations & Infrastructure, Mi9. "As our reliance on the cloud increases, so does the need for order; and we look forward to Cloudyn's Cost Allocation 360° tool to help us do just that while keeping our deployment as cost-efficient as possible."
Key features and functionality of Cloudyn's Cost Allocation 360° include:

Cost Modeling – enables easy, rapid cost allocation modeling for different views of cost distribution, allowing enterprise customers to apply flexible business rules to attribute costs of previously untaggable resources (i.e.: DynamoDB, Data Transfer, Reserved Instances, Support, etc.) for comprehensive chargebacks.
Tag Auto Detection/Derived Tagging – automatically detects and attributes untagged resources to the correct category, i.e. untagged EBS volumes will by tagged by their EC2 instances. This relieves management from the cumbersome, time-intensive, manual effort required with existing cloud analytic tools in order to achieve accurate reporting.
Tag Manager - brings order to unorganized cloud resources by supporting the creation of unique categories that better map to department nomenclature or numbering for effective measuring and reporting. Further, with the ability to manage and tag categories, across multiple cloud deployments, customers can easily regulate and normalize inconsistent tagging.
Rich, Multi-dimensional Reporting – provides Finance and IT managers with unprecedented insights into cloud costs, so they can easily associate deployment expenses with business units, departments, and regions. Business leaders can easily add categories and flexibly customize reports to garner meaningful information for improved decision-making.
Cloudyn's Cost Allocation 360° tracks all cloud-related costs and enables easy re-tagging, category consolidation and creation of business rules for precise handling of shared resources and any uncategorized cloud consumption. For example, many enterprises have different policies for handling reserved instances (RIs). Cloudyn's tool provides an option to specify how each RI's upfront cost as well as cost-savings should be distributed among various business units, projects and locations.
"We're thrilled to provide our customers with an invaluable tool that delivers cloud veterans greater time-savings and control over their cloud deployments and, as a complement to our flagship optimization tool, brings significant cost-savings to the table. This industry-first tool we've introduced underscores our commitment to supporting our customers' needs and reflects our leadership in continually raising the industry standard around cloud optimization," stated Sharon Wagner, CEO of Cloudyn.
Free, Limited Time-Based Trial
Available immediately, Cloudyn's Cost Allocation 360° is available for a limited time, free trial. Interested parties can sign up here: http://www.cloudyn.com/cost-allocation-360/.
About Cloudyn
Founded in 2011, Cloudyn is the leading cloud monitoring, analytics and optimization solution for multi-cloud deployments. The company's industry award-winning SaaS solution delivers unprecedented insights into usage, performance and cost, coupled with custom prescriptive actions for enhancing performance and reducing cloud spend. With more than 12,000,000 virtual instances monitored, Cloudyn helps businesses select the right mix of cloud vendors, increase operational performance, reduce cloud costs to bring them under optimum control, and capitalize on customer choice. More than 2,400 customers use Cloudyn's technology worldwide including F500 industry leaders in aerospace, infrastructure, consumer online travel services, IT management consulting, and manufacturing. For more information, visit http://www.cloudyn.com.