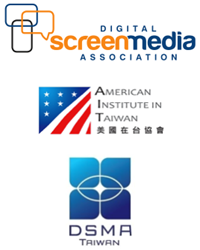 This is a terrific chance to understand the first steps in building business relationships between the United States and Taiwan.
Louisville, KY (PRWEB) October 30, 2014
The digital signage market is not just growing. It's exploding. And it's global.
On November 12, representatives from the Digital Screenmedia Association (DSA), Digital Signage Multimedia Association (DSMA), and American Institute in Taiwan will present Taiwan's Growing Digital Signage Market, an informative discussion on the growth of digital signage in Taiwan and the opportunities for the United States. Attendees can register here.
The global digital signage market will be estimated at $13.2 billion by 2016, with an expected 35% CAGR. North America and Western Europe are currently the leading markets for digital signage, but strong growth is expected in China, Japan, and the rest of Asia- Pacific and Latin America in coming years. Taiwan leads the industry in areas such as panels, monitors, industrial personal computers, while the U.S. excels in system integration application and software.
The webinar will explore how many companies in Taiwan are actively seeking to purchase software, applications, content, and hardware-software integration solutions from U.S. companies.
"Part of our partnership with the DSMA is to explore the potential business opportunites between U.S. and Taiwan-based companies, to develop relatinships, and support the success of the digital signage industry globally," said Paul Flanigan, Executive Director of the DSA. "This is a terrific chance to understand the first steps in building those relationships."
Scheduled to speak during the webinar:
Christopher J. Marut – Director, American Institute in Taiwan
Paul Flanigan – Executive Director of Digital Screenmedia Association
Nick Jane – Chairman of Digital Signage Multimedia Alliance Taiwan
John Wu – CEO of IAdea Corporation
Jeff Chang – Regional Business Development Manager of Intel Microelectronics Asia
The webinar will take place on November 12, 2014 at 6:00 pm ET. Attendees may register here.
ABOUT THE DSA
The DSA is an independent, non-profit association, whose mission is to advance the growth and excellence of the global digital signage, interactive kiosk, and mobile community through advocacy, education and networking. Members include users of digital screenmedia in all vertical markets including retail, hospitality, food service, and healthcare, as well as manufacturers, resellers, and distributors of hardware and software, network operators, integrators, advertising agencies, consultants, analysts, publishers, trade show organizers, and service companies. http://www.digitalscreenmedia.org
ABOUT THE DSMA
The DSMA is the largest industry organization in the Asian-Pacific region addressing needs related to digital signage, interactive technologies, content strategy, and multimedia integration. Its members bring into the platform exceptional in-depth knowledge in areas including display technology, industrial computing, digital content, systems integration, and advertising. http://www.dsma.tw
ABOUT THE AMERICAN INSTITUTE IN TAIWAIN
The American Institute in Taiwan (AIT) is a non-profit, private corporation established shortly after the United States Government changed its diplomatic recognition from Taipei to Beijing on January 1, 1979. The Taiwan Relations Act (PL 96-8) of April 10, 1979, authorized the continuation of "commercial, cultural and other relations between the people of the United States and the people on Taiwan." It also provided that "any programs, transactions, or other relations conducted or carried out by the President or any Agency of the United States Government with respect to Taiwan shall, in the manner and to the extent directed by the President, be conducted and carried out by or through the American Institute in Taiwan." The Department of State, through a contract with the Institute, provides a large part of AIT's funding and guidance in its operations. Congress, in passing the Taiwan Relations Act, also assumed an oversight role with respect to the Institute's operations.
AIT Washington, located in Arlington, Virginia, is the headquarters office of the American Institute in Taiwan. It serves as a liaison with its counterpart organization, the Taipei Economic and Cultural Representative Office (TECRO), as well as with U.S. government agencies.
AIT's Taipei Office (AIT/T) with a total staff of over 450 people undertakes a wide range of activities representing U.S. interests, including commercial services, agricultural sales, consular services and cultural exchanges. The Institute also operates a Chinese language school, trade center, and library. AIT has a branch office in Kaohsiung (AIT/K) that handles local commercial promotion, consular services, information and cultural work. Website.
###