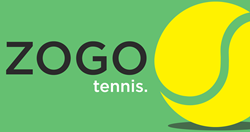 "ZOGOtennis has the potential to bring millions of people into the sport through technology – I'm thrilled to be part of a startup looking to change the game" – Jim Baugh
New York, NY (PRWEB) October 30, 2014
ZOGOtennis is a sports tech startup that helps tennis players find partners and arrange matches using the ZOGOtennis mobile application. Today the company announced that Jim Baugh has joined them as a senior strategic advisor.
"As we launch ZOGOtennis nationwide, this is a great time for someone with Jim's depth of experience to join the company – we are very excited to have him on board," said Eliot Jenkins, Co-Founder of ZOGO.
Jim has a renowned record in the sports industry spanning over 40 years. He is credited with turning Wilson into the dominant manufacturer in the tennis industry, was just inducted in the Tennis Industry Hall of Fame, and also served as the President of the Tennis Industry Association (TIA).
In addition to his new role at ZOGOtennis, Jim is an advisor to other sports companies, on the Board of the Sports & Fitness Industry Association (SFIA), was inducted into the Sports Industry Hall of Fame, and recently launched PHIT America, a national cause and campaign.
PHIT America was founded by Jim to advocate for a more active and healthy America.
"ZOGO has a mission to increase participation in sports which perfectly complements our goals at PHIT America – technology is a great way of connecting people and bringing them into sports and a more active lifestyle," said Jim.
"Tennis is a great sport and needs technology to keep its long term relevance," said David Berman, Co-Founder of ZOGO. "Mobile technology is the perfect way to bring people together so that getting on the court is easier than ever before and people can play whenever they want."
According to the TIA, there are over 17 million active tennis players in the US and an additional 13 million people who consider themselves tennis players but haven't played in the last year. Of this 13 million there are over 4 million people who said they hadn't played specifically because they have not got a partner.
ZOGOtennis has over 100,000 courts across the country covered on the app. It is live on the Apple App Store and free to download.
Download the ZOGOtennis App from the App Store
About ZOGOtennis:
ZOGOtennis is a sports tech company that makes it easier for people to play the sport they love by connecting them together. The company is based in New York. Its mobile application is designed to be the best way to find great partners and easily arrange games.