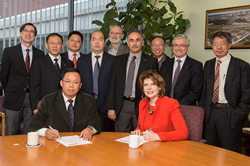 These collaborative international relationships are a significant growth area for SIUE, and we are positioned quite well to capitalize on these opportunities."
Edwardsville, Ill. (PRWEB) October 30, 2014
Southern Illinois University Edwardsville Chancellor Julie Furst-Bowe signed a letter of affirmation with China's Shenyang Aerospace University (SAU) on Tuesday, Oct. 28. The two institutions signed an earlier agreement in China to collaborate in faculty and student exchanges as well as 2+2 programs for SAU students in the areas of mechanical engineering, computer science and electrical engineering.
In these programs, students will study the first two years at SAU and the next two at SIUE, receiving bachelor's degrees from both institutions.
SAU will seek to recruit students for the 2+2 program. Students will begin their studies at SlUE at the earliest suitable date.
SAU and SlUE will also seek to initiate SIUE faculty led student exchange programs. The programs most likely will take place during July and August for one to four weeks.
To further opportunities for collaboration, SAU and SlUE will encourage their faculty to undertake a sabbatical term at the partner institution.
"These collaborative programs in mechanical and electrical engineering and computer science are emblematic of the partnerships being developed with universities worldwide," said Hasan Sevim, dean of the SIUE School of Engineering.
Currently, the School of Engineering has a partnership with Istanbul (Turkey) Technical University in industrial engineering and another with Tongmyong University (South Korea) in mechanical engineering, computer science, electrical engineering, computer engineering and industrial engineering.
The SIUE School of Engineering offers one of the most comprehensive and affordable engineering programs in the St. Louis region with eight undergraduate degrees, five master's degrees and a cooperative doctoral program, all housed in a state-of-the-art facility. Students learn from expert faculty, perform cutting-edge research, and participate in intercollegiate design competitions. Companies in the metropolitan St. Louis area provide students challenging internships and co-op opportunities, which often turn into permanent employment. All undergraduate programs are accredited by their respective accreditation agencies.