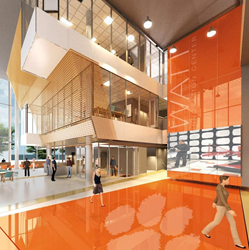 "Clemson University is taking on the bleeding edge of audiovisual design."
Pittsburgh, PA (PRWEB) November 16, 2014
The audiovisual design and consulting company, BrightTree Studios, based in Pittsburgh PA, was just chosen to design state-of-the-art, immersive technology systems for Clemson University's new Watt Family Innovation Center.
"We are honored to be a part of this forward-thinking project, and to get the chance to design audiovisual systems that are not typical," says David Vargo, BrightTree's Principal and Audiovisual Designer for the project.
The center will help enhance the students' academic learning experience by immersing them in critical thinking scenarios, as well as encouraging creative inquiry by grouping students from different majors and tasking them to work on one project together for real companies.
A space essential to the center is the new 200-seat auditorium where students in the computing program showcase 3D characters they have created to Clemson's corporate partners at Disney and DreamWorks. The auditorium features two 4K, 3D stereoscopic projectors with 11.1 surround sound, which allows the characters to be seen in intricate detail.
"So many buildings are using older technology and systems designs and calling them new and cutting edge. Clemson University is actually rethinking how AV needs to work in order to provide cutting edge services to their innovation center," says David, "when this project is completed, many new buildings and campuses across the country will have them to thank when it come to how they use technology."
Also featured in the center is a full communication studio with a virtual audience projection, online learning labs, distance learning studios, an intense Command & Control Center for proactive monitoring of all systems, touch screen video walls, and highly collaborative classrooms and breakout spaces.
The $10,000,000 audiovisual budget encompasses 1/4th of the total project budget.
ABOUT BRIGHTTREE STUDIOS
BrightTree Studios is a full service, audiovisual consulting and design firm that partners with architects, owners, engineers, and end users to create state-of-the-art environments used to inspire individuals to learn, create, work, and collaborate.
ABOUT DAVID VARGO CTS-D
With over a decade of experience in the audiovisual industry, David Vargo comes from a line of prestigious companies. He has experience designing and installing systems on over 200 projects for clients across the spectrum, including corporate, higher education, healthcare, telemedicine, and broadcast.