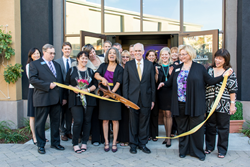 "With its old world family charm, as well as a growing group of businesses, we are excited to have a new home in Alameda," said Phil Weingrow, APR Montclair Village & Alameda Manager.
(PRWEB) October 30, 2014
Alain Pinel Realtors celebrated the opening of their new Alameda office with a ribbon cutting event and grand opening party on October 23rd. Attendees included Alameda Mayor Marie Gilmore, who performed the ribbon cutting, and Alameda Chamber of Commerce board member Kari Thompson.
At the event, the firm gave $5k to the Alameda Point Collaborative, the largest supportive housing provider for homeless families in Alameda County. The supportive housing community uses all its resources to help families and individuals break the cycle of homelessness and poverty.
Among the 14 Realtors working out of the new office, seven rank among Alameda's top 50 agents, including the #1 agents by dollar volume, David Gunderman and Andrew Raskopf, and the former President of the Alameda Association of Realtors, Sally Han, APR Alameda Sales Manager.
Located at 2212-B Southshore Center West, Alameda, the new 2,300+/-sf office space will showcase 21st Century technologies throughout, and will also be the first completely paperless APR office. The space will feature contemporary artwork curated by the Gray Loft Gallery, rotating on a quarterly basis, with receptions for the artists for each installation.
"With a growing part of our business coming from Alameda, our new office will serve the tremendous increase in demand, the accelerating prices of the community, and the wonderful housing option Alameda offers with its convenience to San Francisco and the greater Bay Area," said Phil Weingrow, APR Montclair Village & Alameda Manager. "With its old world family charm, as well as a growing group of businesses, we are excited to have a new home in Alameda."
About Alain Pinel Realtors
Alain Pinel Realtors (APR) is the fifth largest residential real estate firm in the United States based on its closed sales volume, and the largest privately-owned residential real estate company in California. The firm has 1,400 agents in more than 30 offices throughout Northern California. Celebrating almost a quarter century in Bay Area real estate, APR was founded in 1990 by CEO and President Paul L. Hulme, and is based in Saratoga, California. Visit us at apr.com, China.APR.com and connect with us on facebook.com/AlainPinelRealtors, @AlainPinel
###