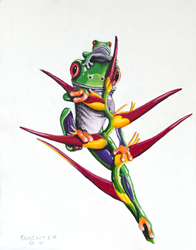 Shachter's bold use of color and attention to detail will engage the reader.
Trappe, Pennsylvania (PRWEB) October 31, 2014
Artist Steve Shachter of Wildlife Harmonies announced today that a deal has been reached with two influential environmental groups to release two children's books about frogs and sharks. Shachter will serve as the illustrator for the upcoming projects.
As an illustrator of endangered wildlife for over 30 years, Shachter seeks to inspire and educate young people about the importance of protecting endangered species. Having illustrated dozens of products, Shachter is excited about his first opportunity to work on the two books.
"The world of children's literature is firmly rooted in the need for visually-stimulating, realistic illustrations that can captivate and engage a child," explained Shachter. "This is especially important for children whose attention to the graphics create a desire to read the text. I can't wait to share my love of wildlife with children in a project that ultimately will educate our future generation."
Sharks and frogs have fascinated the artist since childhood, and he has created numerous paintings detailing these creatures in their native habitat. His passion and realistic portrayal was two of many reasons Shachter was selected as the illustrator.
"Shachter's bold use of color and attention to detail will engage the reader," said Greg Sharp of Sea-Hill Press, Inc.
The book will be released through Sea-Hill Press, Inc., a Santa Barbara-based publishing group that has produced over 1000 books since 1988 and has a long-time reputation for releasing quality and visually-beautiful books. The release date of the two books has yet to be set.
About Wildlife Harmonies:
Wildlife Harmonies is a resource for unique giftware, wildlife and pet illustrations, fine art prints, and posters. Pennsylvania artist Steven Shachter has spent the last thirty years painting wildlife images featuring marine and rainforest scenes. The artist has concentrated most of his efforts in collaboration with conservation organizations, zoos, and aquariums. Shachter's paintings are done in acrylics and pencil on board. His unique style has been noted by national and international collectors. Shachter is a graduate of New York's Pratt Institute and a member of Artists for Conservation.