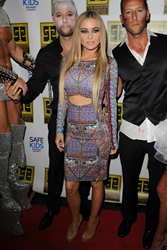 Boca Raton, Florida (PRWEB) October 31, 2014
The Law Offices of Berman and Berman, a Florida Law firm known for giving back to the community, held one of their signature private events for and important cause that will help shape our future and further generations. The firm prides itself on raising funds for local and statewide charities, as the firms motto is always staying "committed to the community". The Law Firm hosts four to six charitable fundraisers a year all in efforts to support charities and help raise awareness and funds. Halloween week provided the opportunity to create a unique costume party and the event had over five hundred people in attendance all in efforts to support Safe Kids of Broward County. The star studded night was Hosted by actress and model Carmen Electra. Many of Electra's celebrity friends joined her, such as Jonathan Cheban from Keeping up with the Kardashians, cast mates from Big Brother on CBS, Recording Artist Trick Santana and many professional athletes, with one surprise guest! Electra's former ex-husband Dennis Rodman made a surprise appearance, startling the Host as she recently told Oprah Winfrey that her marriage to Rodman was horrible and the worst. Rodman only wanted to make peace and clear the air and did not mean any harm.
"The event was a huge success and being able to help the children of our future is always gratifying. Now millions of people will be educated on how they can get involved with Safe Kids and give bask as well, thank you TMZ for sharing the charity event!" stated VP of Marketing, Evan Golden.
"It was such a pleasure to work with the prestigious firm of The Law Offices of Berman & Berman and see how dedicated they are to helping others in need. Honored to be a part of the special night and I want to thank the massive amount of people for coming out and supporting the event. Any time you can have a great time, keep it entertaining and at the same time raise a lot of money for kids in need, that's always a win in my book!" said the Host of the night, Carmen Electra.
To see additional pictures from the event, check out the firms Facebook page here Fright Night Photo Album
About The Law Offices of Berman and Berman
Established in 2008, the Florida personal injury attorneys at The Law Offices of Berman and Berman have quickly garnered a well deserved reputation as indefatigable and fearless defenders of the rights of their clients. With main offices in Boca Raton, Gainesville and Stuart, a driving desire to be among the top attorneys in Florida, and serving clients throughout Florida, we strive to treat you like our friends and neighbors, working diligently to identify and understand your personal and specific wants and needs.
The Florida lawyers at Berman & Berman believe that developing this bond with you enables us to maximize your recovery and bring your personal injury case to a satisfactory close. We understand the stress and uncertainty facing those who have been injured through the negligence of others, and have great compassion for the physical, emotional and financial problems that often follow an accident, causing families to suffer, and work diligently to provide you with the legal strategy and tools you need for success. To learn more about The Law Offices of Berman & Berman call for a free consultation 1-800-375-5555
About Safe Kids Worldwide
Safe Kids Worldwide is a global network of organizations dedicated to providing parents and caregivers with practical and proven resources to protect kids from unintentional injuries, the number one cause of death to children in the United States. Throughout the world, almost one million children die of an injury each year, and almost all of these tragedies are preventable. Safe Kids works with an extensive network of more than 600 coalitions in the United States and in 23 countries to reduce traffic injuries, drownings, falls, burns, poisonings and more. Since 1988, Safe Kids has helped reduce the U.S. childhood death rate from unintentional injury by 55 percent. Working together, we can do much more for kids everywhere. Join our effort at safekids.org.