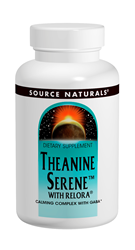 "More and more people are looking for natural stress solutions."
SCOTTS VALLEY, CALIF. (PRWEB) October 31, 2014
Source Naturals® recently announced that Theanine Serene™ with Relora® has been named a best of supplements award winner in the Stress, Anxiety and Mood category by Better Nutrition magazine.
Better Nutrition magazine's award recognizes innovative, research-backed dietary supplements in key health categories based on nominations from health and industry experts and readers. The winners will be announced in the November 2014 issue of Better Nutrition.
Source Naturals Marketing Director Karen Powell says, "We would like to thank Better Nutrition for this award. More and more people are looking for natural stress solutions. Theanine Serene with Relora has become one of our top sellers by providing gentle stress support that consumers can feel. Its multi-action formula helps with concentration and stress-related muscle tension, and may also help relieve occasional anxiety."*
Theanine Serene with Relora works with the body's natural calming mechanisms to promote a calm mind and body. Its key ingredient, L-theanine, is a clinically studied amino acid found almost exclusively in the green tea plant. L -Theanine is also known for affecting alpha waves in the brain associated with states of relaxation and focused attention. GABA, magnesium, and the patented ingredient Relora, which may help relieve temporary anxiety, are included for additional stress support.*
Part of the Source Naturals Serene Science® line, Theanine Serene with Relora can be purchased at most Whole Foods and Sprouts stores, as well as other leading natural products stores and online retailers. Suggested retail prices are $10.75 for 30 capsules, $19.98 for 60 capsules, and $38.50 for 120 capsules. Consumers can get relaxation tips, take a stress quiz, and find purchase locations at http://www.SereneScience.com.
About Source Naturals
Source Naturals is dedicated to enhancing each individual's potential to enjoy optimal health and well-being by providing superior quality dietary supplements and nutritional education. For more information, please visit SourceNaturals.com.
*These statements have not been evaluated by the Food and Drug Administration. This product is not intended to diagnose, treat, cure or prevent any disease.
**All prices and ingredients are subject to change without notice.
Relora® is a registered trademark of NPI, LLC.