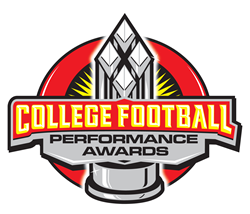 Charleston, SC (PRWEB) November 05, 2014
College Football Performance Awards (CFPA) announces the 2014 CFPA FCS National Defensive Performer of the Year Watch List. The initial watch list includes thirty players from the Football Championship Subdivision. All players are eligible for awards at their respective positions; players are not preemptively eliminated from consideration.
The list includes thirteen linebackers, twelve defensive linemen, and five defensive backs. Two watch list members have previously earned CFPA honors, including 2013 CFPA FCS National Defensive Performer of the Year Lynden Trail. Other winners of the CFPA FCS National Defensive Performer of the Year Award include: Caleb Schreibeis (Montana State), Ryan Davis (Bethune-Cookman), and Tyler Holmes (Massachusetts).
2014 CFPA FCS National Defensive Performer of the Year Watch List:
Jeff Covitz (DL), Bryant
Nick Dzubnar (LB), Cal Poly
Jonathan Woodard (DL), Central Arkansas
Davis Tull (DL), Chattanooga
Quinn Backus (LB), Coastal Carolina
Alec May (DL), Georgetown
Connor Underwood (LB), Indiana State
Sage Harold (DL), James Madison
Jimmy Moreland (DB), James Madison
Jacob Hagen (DB), Liberty
Dylan Cole (LB), Missouri State
Zack Wagenmann (DL), Montana
Christopher Robinson (LB), Morgan State
Lynden Trail (LB), Norfolk State
Kyle Emanuel (DL), North Dakota State
Tim Wienclaw (DB), Rhode Island
Darnell Sankey (LB), Sacramento State
Marquis Smith (LB), Savannah State
Javon Hargrave (DL), South Carolina State
Isiah Corbett (LB), Southeastern Louisiana
Roper Garrett (LB), Southeast Missouri
Chinedu Ahanonu (LB), Southern Utah
James Cowser (DL), Southern Utah
Victor Ochi (DL), Stony Brook
Christian Ricard (DB), Stony Brook
Ryan Delaire (DL), Towson
Tony Bell (LB), UT Martin
Don Cherry (LB), Villanova
DeAndre Houston-Carson (DB), William & Mary
Derek Rivers (DL), Youngstown State
About College Football Performance Awards:
The goal of College Football Performance Awards is to provide the most scientifically rigorous conferments in college football. Recipients are selected exclusively based upon objective scientific rankings of the extent to which individual players increase the overall effectiveness of their teams.
As prominent scholars from a wide variety of disciplines note, CFPA eliminates the politics and biases that vitiate balloting-based awards. Furthermore, CFPA has received praise from both Republican and Democratic White House officials for promoting objectivity and fairness in college football.
CFPA is now in its seventh season of player and team performance recognition. Twenty-eight CFPA winners have been first-round NFL Draft selections.