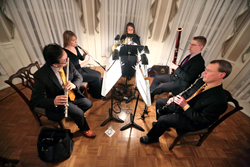 Toledo, OH (PRWEB) October 30, 2014
This weekend at the Toledo Club, join musicians of the Toledo Symphony for an intimate evening of music including a Schubert song, the Nielsen Woodwind Quintet, Leonard Bernstein's Sonata for Clarinet and Piano, and Beethoven's Violin Sonata No. 5 in F.
Special guest, soprano Carol Dusdieker, will join pianist Valrie Kantorski and Emily Sargent on French horn for Schubert's Auf dem Strom. This work is almost unique among Schubert's lied, as there is only one other song out of nearly 600 that includes an instrument in addition to piano.
Carl Nielsen's 1922 Woodwind Quintet will be second on the program. This will be the last time the TSO's principal bassoonist Gareth Thomas will perform in the Toledo Symphony Quintet on a chamber series concert, as he has recently been appointed the second bassoon chair at the Cleveland Orchestra.
After a brief intermission, clarinetist Jocelyn Langworthy and Valerie Kantorski will perform the first work ever published by beloved composer and conductor Leonard Bernstein. The concert will close with Concertmaster Kirk Toth and pianist Frances Renzi performing the stunning Spring Sonata by Ludwig van Beethoven.
The concert will begin at 7:00 p.m. in the Centennial Room at the Toledo Club.
For Tickets
Visit the Toledo Symphony Box Office at 1838 Parkwood Ave, Toledo (M-F 9-5), call (419) 246-8000, or click http://www.toledosymphony.com for online purchases. Tickets are also available at the door the evening of the concert. Tickets start at $30.
The Toledo Symphony
With roots as early as 1838, the Symphony sees itself as the musical heart of Northwest Ohio, supporting Neighborhood and Regional Concerts, a School of Music and three youth orchestras in addition to traditional concert offerings (Classics, Pops, Family, Mozart & More and Chamber).