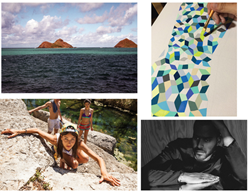 (PRWEB) October 31, 2014
Overlooking beautiful Waikiki Beach, Urban Outfitters will open its first Hawaii store late November 2014. To celebrate UO's arrival in Honolulu, the company has teamed up with a select group of artists, designers, and local businesses to kick off its introduction to the island. Some of the featured guests include culinary greats The Pig and The Lady, organic Wow Wow Lemonade made fresh on the islands, shark conservationists and art collaborators PangeaSeed, and botanical boutique Paiko Hawaii. The talented POW!WOW!HAWAII artist Kristin Farr will also create an original mural and tote bag designs available to purchase in store.
In addition to Urban Outfitters' curated mix of men's, women's, accessories and home offerings, UO Hawaii will feature an exclusive collection from Australia's Zanerobe and adventure gear from UO's activewear brand, Without Walls. Other featured selections include Oahu-made products from local brands such as Samudra, Quality Peoples, and Brooklyn Hawaii.
To further support local talent, UO Hawaii will host multiple events through the new year, including sponsoring Honolulu's Night Market on November 15, hosting a special UO Beauty Event in store on December 11, and holding a free show with Twin Shadow at The Republik on December 12.
Come be part of UO's unique combination of product, creativity, and culture at the new Hyatt Regency Waikiki Atrium. Follow the team on Instagram @UOHAWAII for updates and a behind-the-scenes look at life in Honolulu.
About Urban Outfitters:
Urban Outfitters is an eclectic lifestyle retailer dedicated to inspiring customers through a unique combination of product, creativity, and cultural understanding. Founded in 1970 in a small space across the street from the University of Pennsylvania, Urban Outfitters now operates over 200 stores in the United States, Canada and Europe offering experiential retail environments and an eclectic mix of curated women's, men's, accessories and home product assortments. For more information visit Urban Outfitters on the web at http://www.urbanoutfitters.com