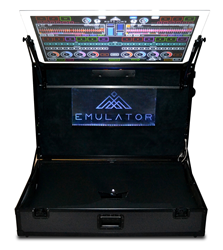 I am so excited to share this new technology with the world and redefine what real DJ'ing is about.
Miami, FL (PRWEB) October 31, 2014
SmithsonMartin continues to pave the way for the future of DJ technology. This month, the first production models of Emulator ELITE shipped to eager pre-order customers.
Co-Founder and CEO Alan Smithson commented on this landmark, "After four years and over a million dollars in R&D, it is my pleasure to announce that the world's most advanced DJ system, Emulator ELITE, will be shipping to the first customers."
The company made a bold move moving production from their Canadian headquarters in Toronto to Miami, Florida. "The decision has proven to be more efficient than we could've imagined," commented Smithson. With the first round shipment in place for the third week of October, the company increased its production rate at phenomenal speeds, projecting the second round of shipments for early November due to increased sales.
Pablo Martin, Co-Founder and CTO, proudly remarked, "Our team has made something truly remarkable and I cannot thank all of our fans and team enough. It is heart-warming to know we have so many supporters and eager customers awaiting their brand new ELITE systems."
Customers have been placing pre-orders for the world's most advanced DJ system since its announcement earlier this year. The first Emulator ELITE was installed at Miami's brand new House Nightclub in the spring. "I am so excited to share this new technology with the world and redefine what real DJ'ing is about," commented Emulator artist Lena Thompson.
With only 100 ELITE units being made, Emulator ELITE is one of the most exclusive pieces of DJ equipment ever made. The first 6 new Emulator Artists include: DJ Lena Thomson, Dr. Drax, President of the American DJ Association (ADJA), The Metabeing, DJ Karn Hall, MCR's John Phillips and new London, UK hotspot, Canteen & Cocktails.
About SmithsonMartin
SmithsonMartin is the world's leader in multi-touch control applications for music, recording, professional lighting and performance art. SmithsonMartin focuses on creating products for the future of DJ'ing. The flagship software Emulator PRO provides a platform for the most popular DJ software programs (Traktor, Ableton, Virtual DJ, and more) to be used on multi-touch devices. Emulator ELITE has been described as Minority Report DJ'ing using a giant transparent touchscreen visible from both sides. Emulator ELITE was nominated for the 2014 DJ Mag Tech Awards Innovative New DJ Product and was recently featured on Discovery Channel's Daily Planet.
###
MEDIA PRESS KIT - http://bit.ly/1s5JRrT
VIDEOS:
Discovery Channel - http://bit.ly/1irNtfD
SmithsonMartin News - http://bit.ly/1qa1ph1
Emulator ELITE promo video - http://bit.ly/1131bUd