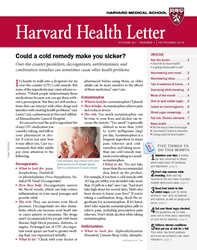 Boston, MA (PRWEB) November 12, 2014
Over-the-counter remedies come in handy when the common cold strikes. But it's important to remember that the remedies are still medications that can interact with other drugs and interfere with existing health problems, reports the November 2014 Harvard Health Letter.
"I think people underestimate these medications because they can get them without a prescription," says Laura Carr, a pharmacist at Harvard-affiliated Massachusetts General Hospital.
It's important to read the list of active ingredients of any medication before taking it, even if it's something bought over the counter. Not sure what the ingredients do? Ask a pharmacist. Older adults should pay especially close attention to antihistamines, such as diphenhydramine (Benadryl, Unisom Sleep Gels), chlorpheniramine (Chlor-Trimeton), and doxylamine (Unisom). Older adults don't metabolize these medications well. If taken in the evening, they can linger in the system and cause late-night falls or early morning confusion. Taking more of the medication can make confusion and sedation worse. Antihistamines can also cause the bladder to retain urine, which can lead to urinary tract infections.
Other over-the-counter cough and cold medications that can cause harmful reactions include decongestants, acetaminophen, and cold remedies that combine various medications.
Read the full-length article: "Could a cold remedy make you sicker?"
Also in the November 2014 Harvard Health Letter:

Easy holiday mood booster
How to spot added sugars
Are mammograms necessary in older age?
The Harvard Health Letter is available from Harvard Health Publications, the publishing division of Harvard Medical School, for $16 per year. Subscribe at http://www.health.harvard.edu/health or by calling 877-649-9457 (toll-free).
xxx
Media: Contact Kristen Rapoza at hhpmedia(at)hms(dot)harvard(dot)edu for a complimentary copy of the newsletter, or to receive our press releases directly.