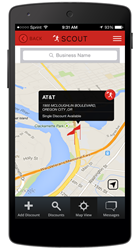 Portland, Ore (PRWEB) November 05, 2014
Scout Military Discounts LLC today announced the launch of SCOUT, the most comprehensive military savings mobile application for both iOS and Android devices. The new, free mobile app is designed to provide all U.S. veterans, military members and their families a way to easily access military discounts and freebies from anywhere, at any time from their mobile phone or other mobile devices. One of the features of the app is a listing of all the Veterans Day deals including thousands of locations for free meals on Nov 11th.
SCOUT delivers a way for members of the military to search from over 100,000 military discounts, freebies and special promotions to find the ones in their community. SCOUT also contains useful information for service members including USO Center locations.
SCOUT provides a way for civilians to give back to those who serve the United States and their families as well. Anyone can support the SCOUT community by adding military discounts they know about in their local communities. And every discount will be verified by a SCOUT member. By doing this, members of the military can access information they otherwise may not know about. It also shows support for those businesses and organizations that directly help our military.
Finally, SCOUT gives participating businesses an opportunity to offer military discounts to soldiers who can save on any number of products and services, while helping drive customers to their businesses. With more than 20 million veterans, 14 million active personnel, and 15 million individuals who are married to someone serving, businesses will now have the potential to access this large consumer audience as the SCOUT app gains in popularity and use among these group members.
"Our mission is simple," said Cody McGraw, Founder of SCOUT Military Discounts. "We want every available military discount to be easily accessible to the military community. This commendable group of people want to know if there is a discount before driving to the store or restaurant. They can now do this right from their phone."
The SCOUT app is available for download at the Apple App Store and Google Play. Use the search term "SCOUT Military" to find the app for download. For more information about SCOUT, the app's purpose and ways to get involved, visit scoutmilitarydiscounts.com.