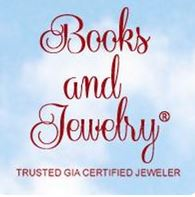 Where the Gift of Love is Golden
Los Angeles, CA (PRWEB) November 04, 2014
Books and Jewelry offers a very large selection of fine and fashion jewelry in all budgets. Every jewelry purchase comes with a personalized card for the occasion of choice. The cards contain poems or stories, lovingly communicating a message along with the jewelry.
Books and Jewelry proudly announces a grand opening of its virtual doors to the public. A jewelry store with a fresh concept in gifts from the heart. Over a thousand pieces of fashion and fine jewelry with style and a splash of wild.
Jewelry has always told a story. Whether a gift for a loved one, a friend, or for yourself, jewelry communicates the love and passion of the moment. The written word coveys a story as a map of the soul to the reader. When jewelry and words are put together, the soul is flooded with imagery and passion. A piece of jewelry from Books and Jewelry, along with a chosen story, creates an experience of powerful communication of love.
The cards are personalized with the sender and recipient's names, and the occasion for the gift. There is even an option to hard bind your story into a photo book, containing a picture of the jewelry, the chosen personalized story, and pictures from the customer.
Books and Jewelry also offers a selection of exquisite coffee table books. Dozens of gorgeous books on fashion, the arts, photography and other subjects.
Birthdays - Anniversaries - Love - Wedding showers - Bridal showers - Engagement - Thank you - Gift for Yourself
Books and jewelry has a beautiful gift, for all budgets.
Books and Jewelry. Where the gift of love is Golden.