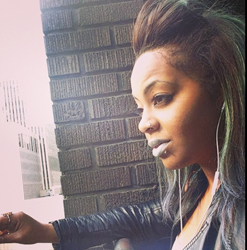 La ' Vega is getting ready to take on acting classes, alongside her dance classes, vocal lessons, and gym schedule, all of which are a part of her artist development routine, provided by her label
New York, New York (PRWEB) October 29, 2014
La ' Vega and her label (MVBEMG) were caught off guard when their unreleased single "Freaky" featuring Swizz Beatz, was leaked on YouTube, and SoundCloud.
The up-and-coming Dominican Hip Hop sensation wasted no time, and rushed back to Quad Studio to record a new single called "They Ain't Like Me".
La ' Vega is currently using Quad Studio, the same studio used by the late Notorious B.I.G and Tupac, to record her yet to be titled album.
The studio session was recorded on video, as a part of La ' Vega's "My Life" YouTube series. The video series will give her listeners and fans a look at La ' Vega's journey through her artist development stages, with independent record label MVB Entertainment Music Group.
At press time La ' Vega is getting ready to take on acting classes, alongside her dance classes, vocal lessons, and gym schedule, all of which are a part of her artist development routine, provided by her label.