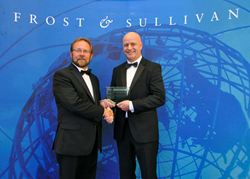 Telford, PA (PRWEB) October 30, 2014
Draeger, a leading provider of medical and safety technology, announced today that it has received the 2014 Frost & Sullivan Best Practices Award for its vision to invest in technological innovations in ventilation therapy and its ability to maintain superior customer relationships. The award recognizes excellence across several categories for outstanding achievement and superior performance in areas such as leadership, technological innovation, customer service and strategic product development.
Draeger received its Frost & Sullivan Best Practices Award in the Growth Excellence Leadership category for Mechanical Ventilation Equipment, which had an impressive list of finalists. Candidates were evaluated on specific market criteria, including Total Customer Experience, Product/Service Value, and Purchase and Ownership Experience. Draeger was the only company to score a 9.0 or better, on a 10-point scale, in all performance criteria measures.
"We are humbled and extremely proud to be the recipients of this prestigious award that recognizes our commitment to innovation and the high levels of service we provide to our customers," says Lothar Thielen, President, Sales & Service for North America at Draeger. "For 125 years, the safety and quality of our products and solutions have been central to building the trust that our customers have in Draeger. We look forward to continuing to earn the trust of our customers by advancing our levels of innovation, product quality, and best-in-class service."
Draeger offers an extensive product line in ventilation therapy, including highly versatile mechanical ventilators. Draeger's acute care ventilators include the Evita Infinity V500/V300 and Savina 300. In the neonatal intensive acute care ventilation market, Draeger offers the Babylog VN 500 and Babylog 8000 Plus. The company's transport care products include Oxylog 3000 plus and Oxylog 2000 plus. The Carina is Draeger's solution for non-invasive ventilation.
"The award recognizes the company's highly qualified and technically skilled team, along with its extensive product line that sets Draeger apart from the competition," said Frost & Sullivan Research Director Siddharth Saha. "Frost & Sullivan's benchmarking analysis confirms that Draeger's vision to invest in technological innovation and its ability to maintain superior customer relationships has enabled the company to establish a brand that resonates deeply with its customers."
For more information on the award program, including information about the award ceremony, visit the Frost & Sullivan Best Practice Awards website at http://ww2.frost.com/.
Draeger. Technology for Life®
Draeger is an international leader in the fields of medical and safety technology. Our products protect, support and save lives. Founded in 1889, Draeger generated revenues of around EUR 2.37 billion in 2013. The Draeger Group is currently present in more than 190 countries and has about 13,500 employees worldwide. Please visit http://www.draeger.com for more information.
About Frost & Sullivan Best Practices Awards
Frost & Sullivan Best Practices Awards identify exemplary achievements within a multitude of industries and functional disciplines. The analysis on best practices that we conduct identifies companies, products, processes, and executives that have achieved world-class performances. This research is an invaluable source to companies for new ideas to improve strategies and processes, which ultimately drive corporate growth. These achievements are recognized with Frost & Sullivan Best Practices Awards Banquets. http://www.frost.com