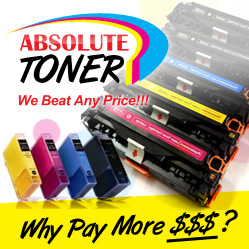 Save a good amount of money without losing any print quality or quantity
Toronto, Ontario (PRWEB) October 29, 2014
Absolute Toner has introduced two new compatible printer consumables: a compatible toner cartridge for the Brother TN450 cartridge and a drum cartridge that can be used in place of the Brother DR-420. The two products come bundled in a combo package that includes three ink cartridges and one drum cartridge. These two products can be used with a variety of Brother printers, including models such as the Brother DCP-7060D, the HL-2220, the Intellifax 2840, and the MFC 7360 line.
Absolute Toner offers these compatible cartridges to businesses and individuals. While some may be hesitant to purchase compatible cartridges, there is very little difference between these compatible supplies and original toner. Both products are made using very similar processes. The compatible cartridges sold by Absolute Toner are also designed for specific models. These cartridges are only compatible with a small number of printers, so there is less of a chance of a printing issue. Toner cartridges that are compatible with many different printer models often aren't fully compatible with any of them, leading to poor print quality or damage to the print head. Compatible cartridges are capable of printing the same number of prints as original cartridges do without any noticeable difference in quality.
By purchasing these compatible cartridges instead of brand name ones, customers in Canada can save a good amount of money without losing any print quality or quantity. Businesses often go through a large number of toner cartridges and drums within a year, an expense that can be decreased by purchasing compatible cartridges. Another option for businesses and individuals with large print volumes may want to consider is using toner refill kits to refill used cartridges. These kits are often cheaper because all users are purchasing is the toner or ink, not the actual cartridge.
Canadian individuals and businesses that are looking for the best deal on printer consumables need to carefully evaluate compatible cartridges before buying them. Some of these toner cartridges are cheaply made, do not contain much toner, and are priced nearly the same as brand name cartridges. Prices that seem to be very, very low may indicate poor quality. Customers also need to look for toner and ink cartridges that are compatible with too many products, as this may indicate that the cartridge will not fit perfectly within the printer.
As a leader in the compatible toner industry, Absolute Toner offers many different compatible cartridges that are high quality, guaranteed to be fully compatible with the machine, and will print a large volume of work.
About Absolute Toner:
Based in Toronto, Absolute Toner has been providing replacement cartridges to individuals and companies for many years. These replacement cartridges match or exceed the quality of the original brand cartridges but cost only a fraction of the price. Visit magento.absolutetoner.com to learn more about using compatible ink in printers and to purchase products.