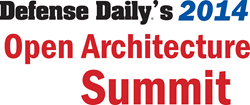 The role of open architecture in the national security acquisition community continues to grow at a rapid pace. Our unrivaled Open Architecture Summit covers the full range of the implementation of open system policies and practices and complex challenges
Washington, D.C. (PRWEB) October 31, 2014
Open architecture solutions are critical for reducing program lifecycle costs and enabling quick technology refresh and upgrades to bring the latest capabilities to the warfighter and national security team. Defense Daily's Open Architecture Summit uniquely focuses on government efforts to implement open architecture standards and policies across the Department of Defense and other agencies.
Senior defense officials have increasingly identified the open architecture approach as critical in the acquisition of platforms, as well as combat, communication and information technology systems. In doing so, the government has asked industry to lead the way in the development and the innovation required to achieve the benefits of open architecture. In a time of constrained budgets, experts believe open architecture standards are of even greater importance.
This event marks Defense Daily's seventh Open Architecture Summit. This year we are focusing on how Pentagon acquisition leaders are implementing open architecture standards in programs, the role of open architecture solutions on the Electromagnetic Spectrum and Electronic Warfare, as well as open business models and adapting best commercial practices to the defense side. The Honorable Katrina G. McFarland, Assistant Secretary of Defense for Acquisition, and Brig. Gen. Kenneth Todorov, Deputy Director of the Missile Defense Agency, will be providing the morning and luncheon keynote addresses. Other key speakers are:

Lt. Gen. Michael Williamson, Principal Military Deputy, Office of the Assistant Secretary of the Army for Acquisition, Logistics and Technology
Vice Adm. David Dunaway, Commander, NAVAIR
Mr. William Bray, Executive Director, Program Executive Office for Integrated Warfare Systems, NAVSEA
Mr. Gary Blohm, Director, Army Architecture Integration Center, Office of the Chief Information Officer/G-6
Mr. Frederick Moorefield, Director, Spectrum Policy & Programs, Office of the Chief Information Officer, Office of the Secretary of Defense
Dr. Richard Wittstruck, Acting Deputy Director, Program Executive Office, Intelligence, Electronic Warfare & Sensors (IEW&S), Army
Mr. Troy Johnson, Director of Capabilities Integration, Office of Deputy Chief of Naval Operations for Information Dominance (N2N6)
Mr. Michael Johnson, Technical Fellow, Northrop Grumman
Mr. Nickolas Guertin, Director of Transformation, Office of the Deputy Assistant Secretary of the Navy, RDT&E
Mr. Robert Matthews, Avionics Architecture Lead, NAVAIR
Mr. Jim Sheridan, Director, U.S. Navy Aegis programs, Lockheed Martin
"The role of open architecture in the national security acquisition community continues to grow at a rapid pace. Our unrivaled Open Architecture Summit covers the full range of the implementation of open system policies and practices and complex challenges, such as reforming acquisition models, creating commonality and tackling the sensitive issue of data rights," says Mike McCarthy, the Summit Chair at Defense Daily. "It's a nuts-and-bolts event focused on ensuring attendees walk away with better understanding of open architecture by hearing from leading civilian and military voices in Pentagon, other government agencies, and industry and academia."
For more information about the 2014 Open Architecture Summit and to register, visit http://www.openarchitecturesummit.com. Special rates are available for Government/Military officials and academia.
About Defense Daily
For more than 50 years, Defense Daily ® has been the leading daily publication for business leads and defense market intelligence in land, sea, air, and space initiatives. We're delivering our award winning reporting to 35,000 unique users a month. Learn about money-making opportunities in Aircraft, Naval Systems, C4I, Future Combat Systems, Information Warfare, Homeland Defense, Land Warfare, Net Centric Warfare, Space and Satellites, and Unmanned Aerial Vehicles. With offices in the Pentagon and on Capitol Hill, you are guaranteed to receive the latest information regarding: the programs that Congress will be funding; who has been awarded the latest defense contracts – and who is subcontracting; emerging market trends and key industry developments; which countries are making decisions to place multi-billion dollar orders; and how all of the new technologies and government policies will affect programs and company's bottom lines.