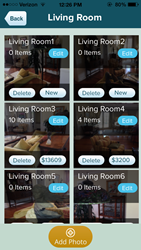 ...personal property contents are not relying on an elderly client's memory."
Los Angeles, CA (PRWEB) October 30, 2014
The new app, ListStuffFast helps solve several aspects involved in downsizing Boomers' parents. The Boomer's parents are now living longer, have accumulated more things, but are now faced with downsizing to assisted care facilities. When a parent has to move from their big house to a smaller condo or home, it is challenging to execute. What to keep, what to give to heirs now, what to donate, sell or put into storage; all of these choices create a hard process to sort through. Often it may require many strangers in the move and new healthcare workers once there.
The new ListStuffFast app helps the process of downsizing by making it easy to document room by room with photos before the move, designate move/sell/donate/storage or even assigns to heirs. Once relocated, a "New Property" setting catalogs the items again room by room when settled in the new smaller place. This provides peace of mind to the family, the parent, and even to the healthcare providers working with the parent. Everyone knows the household and personal items are a matter of record with photos. MacMahan says he has spoken to several healthcare workers and moving specialists; "They confirm that they feel most comfortable if the personal property contents and condition accuracy is not relying on an elderly client's memory."
Having a documented inventory also reduces stress in an even more challenging time. As anyone who has had someone go to assisted living can attest, if a parent dies, the family is normally given 20-30 days to remove everything. If the family wants to avoid expensive double moves and storage fees, having the contents documented also speeds decision making among the surviving family members, and even probate documentation.
Today, there are whole industries springing up around helping downsize aging America (More than 40,0000 Over 65 in 2010 and growing). NASMM, The National Association of Move Managers is one such group, with a dedicated group of members specializing in providing physical and emotional assistance in this incredibly challenging move. Services like these have become even more needed in today's mobile society, as adult children are rarely living near the aging parent. The adult children of the elderly person also typically have full houses of their own, with no space for a parent's possessions. They rarely have space for many of the larger items like antiques or furniture. ListStuffFast provides a way to email an itemized summary, asking for input so the parent can clearly understand what is wanted or not wanted.
The ListStuffFast iOS app is the first of several helpful tools coming from DivvyMaster.com. DivvyMaster was founded in 2010 by David MacMahan with the mission to find ways to Help Divide Things, Not Families. A US patent was recently awarded for their software coming in 2015, designed to make traditionally challenging divisions of personal property among heirs or divorcing spouses fairer and accessible anywhere online.