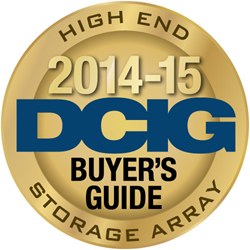 "In spite of what many may think, high end arrays never went away," said Jerome Wendt.
Austin, Texas (PRWEB) October 30, 2014
The emergence of midrange arrays as a viable, cost-effective alternative to many high end storage arrays, meant enterprises looked to alternatives for storing, protecting and accelerating performance of some of the world's most critical data. However, while interest in high end storage arrays may have taken a passing interest to emerging midrange arrays, specific features that can only be found on many high end arrays combined with changes in enterprise environments are driving a resurgence in interest.
It is this interest that spurred the creation of the inaugural DCIG High End Storage Array Buyer's Guide. While the challenge has always been for high end arrays to be more than just a niche solution, there will always be a persistent need for enterprises to host some of their application data on high end storage arrays to take advantage of their availability, manageability and performance characteristics that these arrays have to offer. Continued interest in virtualization consolidation initiatives, keeping up with data growth and applications associated with this data by consolidating and centralizing on a single array, along with maintaining high availability locally and across multiple sites are a few reasons users continue to turn to high end arrays.
"In spite of what many may think, high end arrays never went away," said Jerome Wendt, DCIG Lead Analyst and co-author of the DCIG 2014-15 High End Storage Array Buyer's Guide. "High end arrays have continued to evolve as users look for solutions to best address their storage and data availability infrastructure requirements. While multiple factors continue to drive interest, and in many cases renewed interest, in high end arrays, foremost among these factors is the desire for users to create a centralized, consolidated storage cloud to host and store all data. The release of the first of the High End Storage Array Buyer's Guide gives IT users a convenient way to evaluate and shortlist solutions as part of the all-important buying process."
For the DCIG 2014-15 High End Storage Array Buyer's Guide, DCIG, LLC evaluated 13 offerings from 5 companies. After an initial survey containing more than 100 questions was completed, product capabilities were assessed based on data provided by the vendor, prior DCIG research, and information available in the public domain. Products were then evaluated on more than 100 features. After scores were compiled, products were ranked Best-in-Class, Recommended, or Excellent across functionality and capability relative to the other products included in the Buyer's Guide.
The intent for this Buyer's Guide, as with all DCIG Buyer's Guides, is to provide an "at-a-glance" comparison from which end users can select the most appropriate solution for their existing needs.
The DCIG 2014-15 High End Storage Array Buyer's Guide Top 10 solutions include (in alphabetical order): EMC VMAX 20K, 40K, 200K, 400K; HDS VSP G1000; HP 3PAR StorServ 10400, 10800; HP XP7; NetApp FAS8060 and FAS8080 EX.
HP 3PAR StorServ 10800 achieved the highest ranking in this Guide by providing the scalability and storage architecture to meet ever increasing performance requirements. HP 3PAR StorServ 10800 stood out in several ways from competitive solutions listed in the Buyer's Guide:

Concurrently support SAN protocols as well as virtualize other high end storage arrays (HP 3PAR/EVA and EMC VNX) to extend storage capacities and reuse existing storage infrastructure
Optimizes performance through its use of wide-striping technology. Wide-striping places small chunks of data across all of the drives in its system to harness their collective throughput
Dynamic Optimization software ensures chunks of data are on the right tier of storage, placing frequently accessed data on the most responsive tier of storage while moving infrequently accessed data to slower drives
Supports inline deduplication and flash memory optimization, delivering these new next-gen storage features using its existing controller architecture and carrying forward its data management services.
The DCIG 2014-15 High End Storage Array Buyer's Guide achieves the following objectives:
Provides an objective, third party evaluation of high end storage arrays that evaluates and scores their features from an end user's perspective
Scores and ranks features of each high end storage array based on criteria that matter most to end users
Provides a standardized data sheet for each of the high end storage arrays so users may do quick side-by-side comparisons of products
Provides insights into the maximum levels of raw storage capacity, amount of cache, number of storage networking ports and number of processor cores supported on each high end storage array
Provides insight into the level of VMware integration that each high end storage array offers
Gives any organization a solid foundation for getting competitive bids from different providers that are based on "apples-to-apples" comparisons
"Any interruption in service can have catastrophic effects on a corporations' ability to deliver services, and can have immediate impact on both revenue and reputation," added Chuck Cook, DCIG Senior Analyst and Buyer's Guide co-author. "For that reason alone, high end arrays that deliver five 9's and in some cases six 9's of uptime and availability have been the cornerstone of production data environments. We know this Guide will become an important resource for IT users looking for the best solution to meet their availability, reliability, performance, scalability and storage support needs."
Disclosure and Methodology
DCIG identified 5 companies that provide high end storage arrays. Each high end storage array had to meet the following criteria:
Support either the Fibre Channel (FC) or Fibre Connection (FICON) block-based storage networking protocols
Support at least eight controllers in a maximum configuration with high availability in an Active-Active configuration
Be intended for the storage of production data (as opposed to backup or archive data)
Provide non-disruptive operations across two or more physical locations
Provide sufficient information for DCIG to draw a meaningful decision; and
Be generally available by September 1, 2014
No vendors, whether clients or not, were afforded preferential treatment in the Buyer's Guide. All research was based upon information provided directly by vendors, research and analysis by DCIG and other publicly available information.
It is worth noting that each Buyer's Guide is not intended to be a substitute for internal testing. DCIG encourages any organization that is considering the purchase of any solution included in a Buyer's Guide to do its own in-house testing.
As a supplement to this Buyer's Guide, all of the data collected for this Buyer's Guide and all DCIG Buyer's Guides to date are available through the online DCIG Analysis Portal. The DCIG Analysis Portal provides subscribers more detail on the features that are supported and not supported by each high end storage array, the flexibility to do side-by-side comparisons of individual arrays and their respective features and the flexibility to quickly create custom report. The DCIG Analyst Portal may be accessed via this link.
Availability
The DCIG 2014-15 High End Storage Array Buyer's Guide is available immediately through the DCIG Analysis portal at the following link: http://portal.dcig.com .
Resources:
DCIG Analysis Portal: http://portal.dcig.com
DCIG Blog: http://www.dcig.com/blog
DCIG Website: http://www.dcig.com
About DCIG
DCIG is a group of analysts with IT industry expertise who provide informed, insightful, third party analysis and commentary on IT hardware, software and services.
DCIG independently develops and licenses access to DCIG Buyer's Guides. DCIG Buyer's Guides provide actionable intelligence through comprehensive, in-depth analysis of data center infrastructure product features. DCIG also develops sponsored content in the form of blog entries, customer validations, product reviews, special reports and executive, standard and full-length white papers.
DCIG's target audiences include C-level executives, IT managers, systems and storage engineers and architects, press/media, magazine and website editors, bloggers, financial and technical analysts, and cloud service providers.