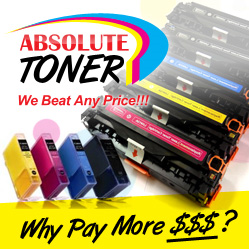 This is an extra high yield cartridge, which will help, in saving money, and time
Toronto, Ontario (PRWEB) October 30, 2014
With the new release of the compatible for Lexmark 64035HA toner cartridge, many users are happy with the alternative option for replacing the user's printer supplies. This cartridge works within the Lexmark T640, Lexmark T642, and Lexmark T644 series.
View the compatible cartridge here.
http://www.absolutetoner.com/lexmark-toner-cartridges/479-lexmark-64035ha-toner-cartridges-compatible.html
The compatible for Lexmark 64035HA black laser cartridge yields 21,000 pages based on 5% page yield. This is an extra high yield cartridge, which will help, in saving money, and time.
The printers that use this compatible cartridge tend to be work group printers, or heavily used machines. The cartridge yield is designed to match that requirement. This new compatible toner cartridge is prepared to match and exceed expectations.
About Absolute Toner:
Absolute Toner is a Toronto based company that operates mostly online with the ability to ship to a large variety of areas. View the website here http://www.absolutetoner.com. They offer the lowest prices and the highest levels of quality for compatible toner cartridges for name brand printers and copiers. Their products are for home and office use and are a great way to save money without sacrificing quality.