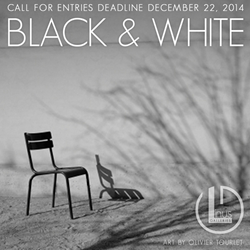 What is important is that you have your artwork established online with a gallery like Linus that will tirelessly promote you and try and sell your art
Los Angeles, CA (PRWEB) October 31, 2014
Linus Galleries, a contemporary art gallery, is bringing it back to the classics at the end of the year with favored art calls such as "Silhouettes," the nature inspired theme of "The Seasons" and the always popular "Black and White" show. With 25 different themes throughout the 2014 year a few are bound to attract less attention than others but the art gallery continues to think outside the box when it comes to their call for entries and the way that they showcase their online shows.
The art gallery which is owned and curated by Los Angeles photographer Linnea Lenkus, has a mission to provide an equal opportunity for all great artwork to be showcased. "Most often the best pieces don't fit in a clearly defined category which is why a lot of our themes have room for interpretation," Gallery Director Julianna Calin said. A few months ago the art gallery posted a call for art inspired by Science. "Science was one of our more unusual calls that attracted a large variety of really great artwork. We even had an artist submit eye catching pieces using mathematical transformation of digital photographs with software he designed. Now that's pretty cool," Lenkus exclaimed.
With regards to the smaller shows that the gallery has released Lenkus shares that no matter how big or small the show is the artwork showcased is of the same caliber. "With online shows it doesn't really matter how many art pieces are in the collection, what is important is that you have your artwork established online with a gallery like Linus that will tirelessly promote you and try and sell your art," Lenkus said. In 2015 the art gallery hopes to open their new brick and mortar space where they will be once again showing art from their online galleries year round.
In the meantime the rising art gallery has added videos of their online art shows. These slideshows are in addition to the already established web galleries that highlight artworks alongside statements from the artist and a link to their website."The videos are a great way to sit back and be exposed to some really stellar pieces of art," Lenkus shared. "It's more great exposure for the artist too and that's what we are all about, trying to get our artist's work seen by the world." The Linus Galleries art show videos can be seen on their YouTube Channel and popular social media sites such as Facebook and Google +.
About Linus Galleries
Linus Galleries was started in 2011 by the highly experienced and internationally published Los Angeles portrait photographer, Linnea Lenkus. Linus Galleries gives the opportunity to be in both online and live juried art exhibitions to artists worldwide.