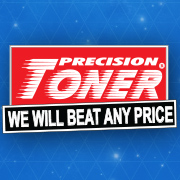 Customers don't have to worry about the product being roughly handled or getting lost
Toronto, Ontario (PRWEB) January 30, 2015
Precision Toner understands that many individuals and businesses can find good deals on ink and other printer consumables online. However, the company has recently begun a campaign that stresses the benefits of shopping in brick and mortar stores. The campaign highlights why shopping at these physical locations should still be considered despite how convenient some consumers find online shopping.
Many customers prefer to shop in physical stores instead of online because of the shipping costs. When purchasing in bulk or buying expensive items, an online shop will often wave the shipping fees. However, customers who only need to purchase a single toner cartridge may find that they have to pay upwards of half of the cost of the item for shipping. On the other hand, customers who visit local retail stores can often buy the toner cartridge for the same price or for only a few dollars more.
By purchasing in person, customers also know that the ink isn't going to be damaged during shipping. Customers don't have to worry about the product being roughly handled or getting lost. There's also no fear of the package being left by the front door for most of the day. When that happens, it's possible the package can be stolen or damaged by bad weather. Even if the package is delivered to a home or business where someone is present, there's always the chance that the wrong item could be delivered. Dealing with returns for these items can be difficult, too.
When ordering online, some websites simply do not include all of the information necessary to select the right product. It can be difficult to tell if the compatible cartridge will work with a specific printer, especially if all that's listed is the cartridge number. Some online shops leave out details such as how many prints the cartridge is rated for. By shopping at an actual brick and mortar store, customers can read the entire box and, if the information is not provided, easily speak to an employee who may have the answers. Online, it's more difficult to talk to a representative in real time. Often, customers have to send an email or online message to the company and then wait for a response, which sometimes takes a day or longer to receive.
Precision Toner understands that these are all concerns for those purchasing products online. That's why the business continues to operate a brick and mortar store. Shoppers who are in need of printer consumables and dislike shopping online will find everything they need at the business's Toronto location.
About Precision Toner:
Precision Toner has offers customers in the Toronto area a wide variety of printer consumables for low prices. The company offers original and compatible toner cartridges as well as refill kits. Currently, Precision Toner operates a pickup location. More information can be found at http://precisiontoner.ca.