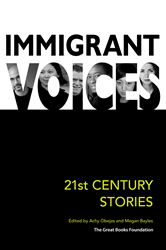 Immigrant Voices... offers a rare peek into the world of the newcomer. For immigrants and second- or third-generation Americans, the book acts as a mirror, or at least a glimpse into the recent past. –Hector Luis Alamo
Miami, Florida (PRWEB) October 31, 2014
As part of the 2014 Miami Book Fair International, four prominent authors—Roberto G. Fernández, Edwidge Danticat, M. Evelina Galang, and Emma Ruby-Sachs—will read and discuss their contributions to Immigrant Voices: 21st Century Stories, the dynamic new anthology from the Great Books Foundation. This session will be facilitated by award-winning author Achy Obejas and cultural studies scholar Megan Bayles, and will give the audience an opportunity to delve into 4 of the 18 stories included in Immigrant Voices. Each of these stories highlights the complex relationships that contemporary migrants to the United States have with their families, friends, new surroundings, and home countries. The authors have made many of the same kinds of transitions as their characters and offer fresh perspectives on the immigrant experience.
"These stories illustrate what it is to have gone from one place to another, to have looked back over your shoulder," writes Beth Kephart in Chicago's Printers Row Journal. Met with positive reviews in print and on National Public Radio, as well as having been adopted as course material for both high school and college classes, Immigrant Voices provides a vibrant look at today's immigration experience. Each of the book's contributing authors is a celebrated contemporary writer enriching the literary community with novels, short stories, poems, plays, and scholarly expertise.
About the Great Books Foundation:
The Great Books Foundation is an independent, nonprofit educational organization whose mission is to advance the critical, reflective thinking and social and civic engagement of readers of all ages through Shared Inquiry™ discussion of works and ideas of enduring value. Join us for this exciting conversation!