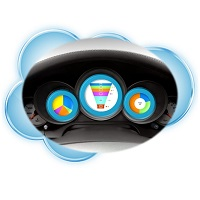 "The basic premise is that the more that you are reminded of sales insights, the easier it is to act on them," Kevin Cook, BrainSell's VP of Sales
Topsfield, MA (PRWEB) October 30, 2014
Creating a Salesforce dashboard that is nimble, yet full of valuable components and functionality should be one of the first things on your mind when improving your instance of Salesforce. BrainSell, a Salesforce Certified Cloud Consulting Company, is holding a webinar on November 12th that speaks to the creation of custom dashboard components that can give your business better insights.
To sign up for the Salesforce Webinar on November 12th, visit BrainSell's signup page:
http://nrforms.brainsell.net/Salesfoce-Customized-Dashboard-Components-Webinar
BrainSell's lead Salesforce engineer, Ric Palmer, will be the main presenter at the webinar, with BrainSell's Sonja Fridell (BrainSell's Executive VP) and Kevin Cook (BrainSell's VP of Sales) will provide supporting presenter roles.
Recently, BrainSell has been holding diverse software webinars regarding CRM, ERP and BPM services. This Salesforce webinar represents a golden opportunity to start the conversation amongst Salesforce users to see how they are using the software. Kevin Cook, BrainSell's VP of Sales, is convinced that there is plenty of revenue-generating tactics that are in play when creating dashboard components:
"Creating an appealing dashboard that becomes the center of daily sales activity greatly increases intimacy between the salespeople and their deals," said Cook. "The basic premise is that the more that you are reminded of sales insights, the easier it is to act on them."
Anyone interested in how to get more use out of Salesforce by creating visual and informative custom dashboard components should sign up for the webinar.
During the Webinar, BrainSell will teach how to create and customize these components:

Charts
Dashboards
Reports
Gauges
Metrics
Screen Design
BrainSell's scope of Salesforce services has grown considerably during Salesforce's assent to the top tier of the CRM universe. The webinar comes at the perfect time for Salesforce users, who are eager to improve their instance after an inspiring Dreamforce 14' (Salesforce's yearly summit).
View BrainSell's events homepage here:
http://www.brainsell.net/resources/events-webinars/
Anyone who has questions, concerns or suggestions regarding the webinar are encourage to contact BrainSell's Marketing Manager, Jordan Fraczek, with questions.
Contact Information:
Jordan Fraczek
Marketing Manager
BrainSell Technologies
978.887.3870x205
jfraczek(at)brainsell.net