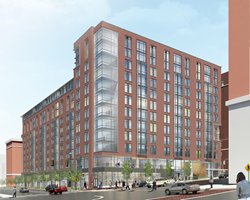 "We are very pleased to have Capstone and their extensive and successful student housing experience as part of this transformative project with Johns Hopkins University" said Tony Nero, President of Armada Hoffler Development.
Birmingham, Alabama (PRWEB) November 03, 2014
Capstone On-Campus Management ("COCM") is pleased to announce its selection as manager of "3200 St. Paul," a mixed-use student housing community, located one block from the campus of Johns Hopkins University. The $65 million project is being developed by Virginia-based Armada Hoffler Properties, Inc. and the Beatty Development Group. Assuming all approvals are obtained, construction is scheduled to begin in April 2015, with opening in fall 2016.
Located at the southwest corner of St. Paul and 33rd Streets, in an area known as Charles Village, 3200 St. Paul will offer 569 beds of market-rate student housing to Johns Hopkins University students in studio, two, three, and four bedroom apartment options. The 12-story community will include 31,500 square feet of commercial space, along with a 162 space parking structure.
Johns Hopkins University, which owns the underlying project site, awarded the development rights to the developers in 2012. Since that time, the University and the developers have worked closely on the programming and design of the new community. The long-term ground lease for the development of the project was recently finalized.
COCM, which manages over 7,000 beds of student housing on campuses throughout Maryland, will provide turn-key management services for the new community.
About Capstone On-Campus Management
Capstone On-Campus is a company of housing professionals focused on providing management and consulting services for student housing owned by non-profits or closely affiliated with same. The majority of communities managed are located directly on a college or university campus. Headquartered in Birmingham, Alabama, Capstone On-Campus currently provides management services for 24,953 beds at 27 campuses, reflecting $1.6 billion in assets -- more student housing owned by non-profits than any firm in the industry.