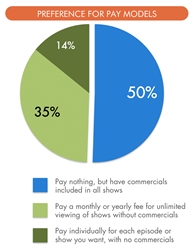 All else being equal, more consumers would prefer to use a free-ad supported platform than pay for TV content, either through a subscription or by buying individual shows or episodes
Boston, MA (PRWEB) October 30, 2014
As consumers continue to shift more of their TV viewing online, it's becoming more and more important for marketers to figure out the most effective way to adapt delivery of ads to online content. On the one hand, online ads give marketers more tools and flexibility to engage consumers (e.g. dynamic ads, "click to shop" capabilities, enabling consumers to choose the categories of ads they see). But ads also need to create a satisfying experience for viewers, because they now have ad-free options to choose from if they want to.
Hub's new study, "TV Advertising in an OTT World," suggests that there are some clear best practices when it comes to incorporating ads into online programming.

Ad Load: Five ads per 30 minutes is a tipping point when it comes to satisfaction with the online viewing experience. Among those who reported seeing 1-4 ads in their most recent online viewing session, 34% were "highly satisfied" with the viewing experience, content aside (i.e. rating of 9 or 10 out of 10). Satisfaction was significantly lower—23%--among those reporting 5 ads or more.
Dynamic Ads: Dynamic ads and viewer control (e.g., the option to choose the product categories of ads you see) lead to greater sponsor recall. For example, among those who said ads were based on product categories chosen in advance, 38% recalled ad sponsors during the session—vs. just 15% overall. Dynamic advertising creates greater value for advertisers. But it's also more appealing to consumers.
Ad Delivery Approaches: We presented 20 specific approaches to ad delivery and asked viewers to tell us which ones would be most likely to grab their attention. Five of the top 8 approaches were targeting related—ads delivered based on viewers' prior behaviors or interests.
Networks and MVPDs lag behind other online platforms on these ad delivery measures.
Viewers who watched authenticated TVE during their most recent session reported seeing the highest number of ads: 6.7 per session, vs. the average of 5 across platforms. And they were least likely to recall which brands were associated with the program—via commercials, program sponsorship, or product placement (19%, vs. 26% across all platforms)
"Media buyers are steering more dollars from linear to OTT, and sellers are trying to figure out how to best monetize their digital properties," says Mike Haggerty, one of the study authors. "This new data illustrates that it's not enough to just move your linear ad strategy to the Internet. There are specific tactics that not only make ads in online TV more effective, but also leave viewers more satisfied. Which is critical in an environment where so many other options are available."
"These findings show that even though consumers prefer a free, ad-supported content over a subscription model, almost 4 in 10 say they are less likely to pay attention to ads while watching online than ads on linear TV," says Peter Fondulas, a principal at Hub and co-author of the study. "Online, distractions are just a click away. So it's even more important to deliver ads in a way that engages consumers. Our study shows that dynamic advertising is the most compelling way to accomplish that."
About this Research
"TV Advertising in an OTT World" is a new research study among 1,200 US consumers who watch at least 5 hours of TV per week, and use at least one online ad-supported video platform. A report with additional findings from this study is available as a free download from Hub Entertainment Research. The study was conducted in October 2014.
About Hub Entertainment Research
Hub Entertainment Research is a market-research firm with deep expertise in television, movie, videogame, music, publishing, and sports—anywhere that entertainment and new technology overlap. Our work includes The Hub Reports: an annual series of 6 syndicated studies that track key behaviors of TV consumers, and enable decision-makers to anticipate the biggest risks and opportunities in a rapidly changing marketplace. For more information, please visit us at http://www.hubresearchllc.com.