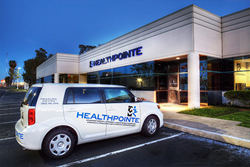 Dr. Pax, a current member of the American College of Occupational and Environmental Medicine and the American Osteopathic Association, is a welcome addition to Healthpointe for his extensive background in Industrial Medicine
(PRWEB) October 29, 2014
Healthpointe's occupational medicine program is designed to return injured workers back to work promptly and in their best condition possible. Among the many services offered through the program are: on-site safety training and ergonomic assessments, pre-employment screenings and physicals, physical therapy, pain management, and consultations with specialists to create modified work schedules best suited for the patient's abilities. Some of those specialists include Orthopedists, General Surgeons, Podiatrists, Physiatrists, Psychologists, Neurologists, and Physical Therapists, all of which work closely with the occupational medicine doctor to achieve better patient outcomes, high quality medical care, and reduced costs.
Dr. Pax, a current member of the American College of Occupational and Environmental Medicine and the American Osteopathic Association, is a welcome addition to Healthpointe for his extensive background in Industrial Medicine. Soon after receiving his Doctorate of Osteopathic Medicine at the Western University of Health Sciences, Dr. Pax became a staff physician at the U.S. Navy. For this, and his commitments to serving the U.S. military as a Medical Corpsman, Dr. Pax was awarded the Navy and Marine Corps Achievement Medal, National Defense Service Medal, and a Fleet Marine Force Ribbon.
Dr. Pax has also conducted research at the Long Beach Veteran's Administration Medical Center, Department of Cardiology, and at the University of California's Infectious Disease Laboratory. Dr. Pax's heart for his community and his patients is seen in his time volunteering at the Speaker's Bureau of the American Heart Association, where he gave local talks about heart disease treatment and awareness.
In Healthpointe's occupational medicine program, the wellness of his patients is most important to Dr. Pax, who brings to his patients the skills he has acquired from his years of medical training. Dr. Pax works closely with his patients to relieve them of their discomfort and symptoms, so that they can return to their workplace and lifestyle in their best possible health and as timely as possible.
To learn more about Dr. Pax and Healthpointe's occupational medicine program, call (844) 887-7882 or visit Healthpointemd.net.
About Healthpointe:
Healthpointe is a leading multidisciplinary healthcare organization offering a full range of medical services in practice locations throughout Southern California (Los Angeles, Orange, San Bernardino and Riverside counties). As a highly regarded musculoskeletal group, we have a personal investment in the highest level of service, and we are proud of our record of excellence over the last four decades with private patients, injured workers, urgent care, personal injuries, and professional and non-professional athletes. Leading our organization is a dynamic team of healthcare professionals who continually strive to be at the forefront of medical innovation and healthcare service delivery. For more information, a complete list of services, and Healthpointe locations, visit http://www.Healthpointemd.net