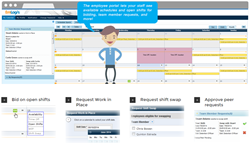 Houston, TX (PRWEB) October 30, 2014
EmLogis, a leading provider of online employee scheduling solutions, today highlighted features that give employees more control over changes to their schedule, thus reducing the use of employee sick days and helping supervisors eliminate the need for last minute scrambles to fill open shifts. EmLogis offers "work-in-place" and "online shift swap" capabilities that empower employees to find another employee to fill shifts they are unable to work, rather than calling in sick.
Many employers have found that employees call in sick when they are not actually sick, but rather have a conflict in their schedule and are unable to make it to work. Instead of having to use a sick day when a conflict arises, EmLogis provides easy-to-use online tools that give employees the power to find others to work their shifts thus helping to keep shifts covered and helping supervisors use their time more productively versus having to perform last minute scrambles to fill open shifts.
EmLogis helps to reduce sick days with these easy-to-use, online employee tools which can be accessed from any web browser or smartphone:
1. Shift Swap:
If an employee is scheduled to work a shift that they can no longer work, instead of calling in sick and leaving the burden of filling that shift with a supervisor, they can access their schedule online, click on the shift they wish to change and select Shift Swap. Behind the scenes, EmLogis goes through all of the rules that have been established for scheduling including overtime rules, minimum and maximum hours per day and week, skill sets, teams, and locations. EmLogis then provides the employee with a list of alternate shifts that they qualify for within the same schedule week that are currently scheduled to another qualified employee. The employee then selects the alternate shift they want. EmLogis then notifies the other employee that a shift swap opportunity is available. Employee #2 may agree to the switch, approvals can be sent to the supervisor (if necessary), then shifts and schedules are updated instantly. Employees are notified that the swap has been approved.
2. Work In Place:
When performing a Shift Swap, minimum hour constraints for the employees are still enforced; both employees are still getting their hours. If the employee that needs a schedule change does not need to keep their minimum hours, they can use a work-in-place request. This will enable the employee to give up the shift they are not able to work without accepting another shift and without enforcing their minimum hours rule.
About EmLogis
EmLogis offers web-based, automated employee scheduling software is specifically designed for challenging and complex employee scheduling environments – such as those that require 24 x 7 x 365 staff coverage and have demanding staffing-level requirements, skill-level requirements, or strict compliance requirements. These requirements are often found in Corrections Staff Scheduling, Long Term Care Staff Scheduling, Dialysis Staff Scheduling, as well as many other Public Safety Staff Scheduling and Healthcare Staff Scheduling situations. EmLogis provides a powerful, easy-to-use employee scheduling solution that is easy to install and use and is entirely web-based, requiring no installation, no hardware, and no upgrades. EmLogis' employee scheduling software is proven to reduce staffing costs, ensure staffing level compliance requirements and increase employee satisfaction. Unlike other employee scheduling solutions that can cost hundreds of thousands of dollars and can take a year or more to set up, EmLogis is easy to use, affordable, and can take as little as 14 days to implement.
Headquartered in Houston, Texas, EmLogis serves customers worldwide primarily in Corrections, Public Safety, Healthcare, and Long Term Care environments. Contact EmLogis at +1-888-302-9830 or visit http://www.emlogis.com for more information.
EmLogis and SmartRules Scheduler™ are trademarks of EmLogis Inc. in the United States and other jurisdictions. All other company and product names may be trademarks of their respective companies.