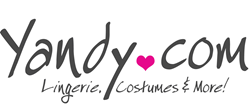 Phoenix, Ariz. (PRWEB) October 29, 2014
Yandy.com, the country's largest online retailer of sexy Halloween costumes, has released the results of a study ranking the Top Five New York City zip codes for total sales during the 2013 Halloween season. Extracting New York City statistics from over 95,000 total nationwide orders between October 1 and October 31, 2013, the findings reveal the company's first ever list of New York City's Top Five Sexiest Halloween Neighborhoods.
The runaway winner in sales volume during Halloween 2013 was Murray Hill, the heart of the 10016 zip code stretching from 26th to 40th Streets and from 5th Avenue to the East River. "We anticipated Murray Hill being ranked high, as it is a popular location for recent college graduates who still like to go all out for Halloween," said Chad Horstman, Founder and CEO of Yandy.com. "And we were pleasantly surprised that New York City ranked number one of all United States cities, as locations with warm weather climates typically do better with costumes that are admittedly more revealing." Los Angeles, Miami, Chicago and Houston joined New York in the list of top five U.S. cities for Yandy's total 2013 Halloween sales.
Finishing second to Murray Hill was the 10003 zip code, comprised predominantly of Union Square, Noho and the NYU home of Greenwich Village. "While this may correlate to the concentration of NYU students in the Village, a significant chunk of the addresses were actually situated north of 14th Street," added Horstman.
Rounding out the company's rankings of Top Five Sexiest Halloween neighborhoods in New York City were Midtown West, Hell's Kitchen and Gramercy. "Though all five of these neighborhoods are in Manhattan, the Williamsburg zip code of 11211 has seen tremendous sales growth in recent years and is projected to break the top five for Halloween 2014," said Horstman.
Since launching in 2006, Yandy.com has emerged as a leading online retailer of both lingerie and sexy costumes, with popular media personalities including Jon Stewart and Ellen DeGeneres regularly citing Yandy costumes as some of the most notable costumes of each Halloween season on their national television programs. The company is based in Phoenix, AZ and sells exclusively through its Yandy.com website.
About Yandy.com
Yandy.com is one of the world's largest online retailers of women's lingerie, sexy Halloween costumes, swimwear, rave wear, shoes, wigs and hosiery on the web. Founded in 2003, Yandy boasts more than 7,000 affordably priced products which are always in stock, allowing for quick, same-day shipping. Designated as a Google Trusted Store, Yandy prioritizes unrivaled customer service and a commitment to ensuring that every customer receives a safe and secure online shopping experience. At Yandy, every customer can Be Sexy.
###