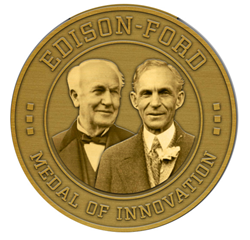 It is a great honor to award the Edison-Ford Medal to Mr. Gurney, whose success and contributions both on and off the race track have played a pivotal role in shaping American auto racing into what it is today
Dearborn, Mich. (PRWEB) October 30, 2014
The Henry Ford paid tribute to racing legend Dan Gurney on October 29 during a special ceremony at Henry Ford Museum, awarding him the Edison-Ford Medal for his ingenuity and lifetime of innovative achievements. The Edison-Ford Medal is designed to honor those who fully leverage the creative, innovative and entrepreneurial spirit that resides in every one of us. Special guest Charlie Rose, talk show host, journalist and co-anchor of "CBS This Morning," served as Master of Ceremonies.
"It is a great honor to award the Edison-Ford Medal to Mr. Gurney, whose success and contributions both on and off the race track have played a pivotal role in shaping American auto racing into what it is today," said Patricia Mooradian, president of The Henry Ford. "We are very privileged at The Henry Ford to be able to share his inspiring story of ingenuity and innovation through our collections with our visitors every day."
In addition to a number of memorable wins in a variety of racing categories, Gurney established himself not only as one of racing's most successful drivers, but also as an innovative car builder and team owner. Gurney's wide-ranging curiosity and hands-on attitude have resulted in a number of innovations including the downforce-increasing "Gurney flap" and the "rolling wind tunnel," built at his race shop, All American Racers, to test the at-speed aerodynamics of scale models.
Gurney is also tied to several automobiles that are part of The Henry Ford's world premier automotive collection, including the 1962 Ford Mustang I Concept Car driven at Watkins Glen, the 1965 Lotus-Ford Race Car that Jim Clark used to win the 1965 Indianapolis 500, and the 1967 Ford Mark IV Race Car, used for perhaps his most famous win at the 1967 24 Hours of LeMans. After winning that race, Gurney famously sprayed the crowd with champagne, starting a racing tradition.
Dan Gurney is only the second recipient of the Edison-Ford Medal. Established in 1989 on the 60th anniversary of The Henry Ford, the medal was awarded that year to Dr. W. Edwards Deming, the Father of the Quality Evolution.
About The Henry Ford
The Henry Ford in Dearborn, Michigan is an internationally-recognized cultural destination that brings the past forward by immersing visitors in the stories of ingenuity, resourcefulness and innovation that helped shape America. A national historic landmark with an unparalleled collection of artifacts from 300 years of American history, The Henry Ford is a force for sparking curiosity and inspiring tomorrow's innovators. More than 1.6 million visitors annually experience its five attractions: Henry Ford Museum, Greenfield Village, The Ford Rouge Factory Tour, The Benson Ford Research Center and The Henry Ford IMAX Theatre. A continually expanding array of content available online provides anytime, anywhere access. The Henry Ford is also home to Henry Ford Academy, a public charter high school which educates 485 students a year on the institution's campus. In 2014, The Henry Ford premiered its first-ever national television series, The Henry Ford's Innovation Nation, showcasing present-day change-makers and The Henry Ford's artifacts and unique visitor experiences. Hosted by news correspondent and humorist, Mo Rocca, this weekly half-hour show airs Saturday mornings on CBS. For more information please visit our website thehenryford.org.
# # #