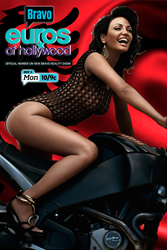 I don't wan't to be known as the next Lady Gaga or the next Katy Perry, I want to be known as the FIRST Bleona
Los Angeles, CA (PRWEB) October 31, 2014
Things will definitely be sizzling this fall as Albanian pop star, Bleona joins the avant-garde Euro crew of the Bravo network's Euros of Hollywood. Based in LA, this group of extreme personalities set out on a journey to achieve the ultimate prize of notoriety by making it in America. The only commonalities shared by the cast are their European roots and track record of success in their native countries. Outside of that, the blend of strong A- type personalities makes for a good mix of explosive television programming.
Dubbed "The Madonna of Albania", Bleona makes it loud and clear that she will stop at nothing to conquer her American dream of super stardom. With eight studio albums and millions of units sold, Bleona is not fazed by the success of others and practices what she dishes out "The only person you need to be better than is the person you were yesterday! We are all our own competition."
Bleona's fiery disposition can be misconstrued at times because of her demanding nature. Through Bleona's eyes she asserts, "Don't confuse my personality with my attitude ....My personality is who I am! My attitude depends on who you are! It doesn't matter who likes you or hates you, what matters is …WHO LOVES YOU!"
As unfiltered as Bleona might seem, her "over the top" personality is softened by her underlying genuine family values and loyalty as she has been supporting her parents since the age of fourteen. She even refers to her new Euro family as "The United Nations of Europe" referencing the importance of the crew sticking together to help one another achieve their idea of the American dream.
Obsessed with being "undeniable in America" Bleona tells the audience she doesn't want to be known as "the next Lady Gaga" or "the next Katy Perry", she wants to be the first Bleona. By the look of things, Bleona won't have that problem as her uniquely passionate personality can draw any viewer into her whirlwind world.
In a nutshell, Bleona wants to "rock the world" and amass as many new viewers into her exclusive hardcore fan base fittingly named "I-AM-A-BLEONAIRE". The message Bleona offers to her fans both existing and emerging is to live life to its fullest "With Champagne toasts and caviar dreams, the Queen on the Scene is always on the up. Fueling up on precious metals and stones along the way, the Head Bleonaire will show you how to live the life you've always wanted. Show Off with me and let the WORLD know the Fashion & Lifestyle of the I-AM- A- B-L-E-O-N-A-I-R-E-! 'I AM A BLEONAIRE' is more than a fan, you are a family member and family sticks together through it all!"
Tune into Euros of Hollywood on Nov.3rd 10/9c to witness the rise of this pop diva in the U.S. market. learn more about Bleona by visiting: http://www.bleonaworld.com
Source: Pictoguard
Source: Bravo Network