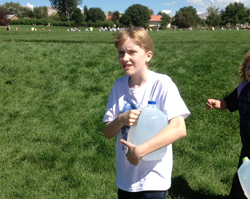 We will walk and keep on walking until everyone has clean water.
Kansas City, KS (PRWEB) October 30, 2014
When middle-school student Jennifer Stuckenschneider learned her sponsored friend, Rose, from Kenya had to walk the equivalent of five football fields—sometimes twice a day—to get water for her family, Jennifer knew something had to change.
Jennifer, 11, sold art she created to provide a well that now benefits 7-year-old Rose's entire neighborhood.
Jennifer's determination did not stop there. Jennifer recently hosted a Kids Walk for Water event in her hometown of Grand Junction, Colo., and raised more than $3,000 to support Health through Unbound.
Little did Jennifer know that her efforts, which included creating a website, a Facebook page and telling every person she knew about the walk, would provide 31 "pilas" or water tanks for families in Honduras.
"I am very happy to know I have been able to help others. This was my dream to help people get clean water," Jennifer said.
Jennifer is still raising money in hopes of reaching her $11,000 goal.
Her message to kids is inspiring. "Kids can make a difference," Jennifer said. "If you let people know you are giving them a way to help others, they will help you make a difference in the world."
Donations supporting Health through Unbound will help not only provide wells and filtration systems so families can drink clean water, but also construct sanitary toilets, reduce waterborne illnesses, and promote participation in hygiene education.
"Jennifer has no 'I can't' in her. She has to help because people need help," said Tricia Stuckenschneider, Jennifer's mother. "She amazes me and I will help her as much as possible."
Jennifer has already started planning a citywide walk next year in Grand Junction.
"We will walk and keep on walking until everyone has clean water," Jennifer said.
Unbound is the largest nonprofit in Kansas with more than $120 million in annual revenue. We work directly with more than 325,000 children, families and the elderly in 21 developing countries as they confront the challenges of poverty and work toward a better life.
Unbound distributes direct aid as quickly and efficiently as possible to people who need it. More than 93 percent of all the money Unbound spends goes to program support.
#