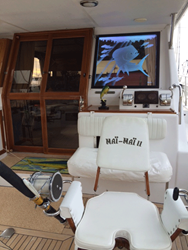 Beautiful like all your sculptures. My Mai-Mai II has been a huge success on the port of Beaulieu on the French Riviera. Thanks again, Captain Bernard Lacosta
Pompano Beach, Florida (PRWEB) October 31, 2014
Glass artist Peter Edward Jurgens recently created a custom etched glass LED yacht window for the popular charter fishing yacht Mai-Mai II in France. The custom carved and illuminated LED yacht window was created at Krystal Glass Company art glass studio in Pompano Beach, Florida and shipped to the yacht in France for installation during a recent refit.
The art for the yacht window was provided by its captain, Bernard Lacosta. He requested the art to resemble his tattoo of a bull dolphin fish. Peter Edward started with colorless Optiwhite glass and carved the design in the glass by hand with highlights of etched glass for shading and detail. Multi colored LED lights around the edges provide the finishing touch. See the video to watch the color-changing lights rotate through all the colors.
The Mai-Mai II is a 52' sport fishing and whale watching yacht that sails the French Riviera and destinations such as Monte-Carlo, Nice, Cannes, and St. Tropez.
Peter Edward Jurgens, president of Krystal Glass Company in Pompano Beach, Florida, is a master glass artist with a 30-year history of creating thousands of custom art glass projects by hand in etched glass, carved LED illuminated glass, painted glass, antique mirror and decorative mirrors. His art glass and mirror grace the luxury homes, yachts and offices of clients in his hometown of South Florida and can be shipped to any location. He is well known for highly detailed etched and carved glass designs rich with multi-shaded areas that he achieves by hand.
Most of his commissions come from referrals and repeat clients. Krystal Glass Company has been family owned and operated since 1980. Serving Broward, Palm Beach, Martin, St. Lucie, Indian River, and Miami-Dade Counties and shipping world-wide. (954) 973-2998.
Krystal Glass Company specializes in fine art glass such as decorative carved and LED illuminated art glass panels, etched glass, back painted glass and mirror, bar and table tops, and on-site etching. Standard glass, frameless shower enclosures, mirror and tabletops also available. Thank you for 34 years!