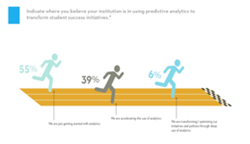 The survey and the summit are pointing to real momentum in this shared work in student success science.
Austin, Texas (PRWEB) October 30, 2014
Civitas Learning today announced the results of its first "Pulse" survey recently conducted at its Pioneer Summit. More than 70 individuals representing more than 40 higher education institutions and systems participated in the survey. This is the first step in the ongoing effort to benchmark the burgeoning community's work in predictive analytics focused on student success.
The results of the survey are available in the Civitas Learning Space. One key finding is that analytics is not just the domain of Institutional Research or Information Technology departments anymore. It is clear from the results that the use of growing analytics infrastructures are touching constituencies across the institution, including:

Admissions
Enrollment Management
Academic Affairs
Administration
Student Affairs
Institutional Research
Information Technology
"We are on a vital and potentially transformative journey together," said Dr. Mark David Milliron, Civitas Learning's chief learning officer and co-founder. "The survey and the summit are pointing to real momentum in this shared work in student success science. It's exciting to see the diverse and innovative ways our partners are using the data drawn from these digital footprints and the connected apps to inform and inspire outreach and strategy."
The survey also shows that partners are at varying levels of readiness and implementation along a continuum that will grow and evolve as their institutions expand these efforts. While some institutions are in beginning stages of building their analytics and apps infrastructure, others have considerable expertise and solid foundations in place, like recent partner Sinclair College.
"We've been at the forefront of using data to guide student success innovation for some time," said Dr. Steve Johnson, president of Sinclair College. "Joining this growing community of tough-minded analytics innovators was the natural next step, and we're excited to share with and learn from our partner institutions."
Others that have recently joined the Civitas Learning community include: the University of Oklahoma, American Sentinel University, DeVry Education Group, Nova Southeastern University and Los Rios Community College District.
"Using predictive analytics is clearly the shape of things to come," said Dr. Brian King, chancellor of the Los Rios District, based in Sacramento, Calif. "Their use will be vital to our four colleges and to all of higher education if we are going to be effective in our efforts, and good stewards of taxpayer dollars, as we help guide our students on the flight path to success."
Visit the Civitas Learning Space to view the complete list of institutions and systems participating with Civitas Learning. Check out case studies, videos and podcasts that showcase the work of this robust community of practice committed to helping students learn well and finish strong.
About Civitas Learning
By building a community of forward-thinking higher education institutions, Civitas Learning™ brings together the best of new technology, design thinking, and data science in its mission to help a million more college students learn well and finish strong. Using a cloud-based, predictive analytics platform and engaging applications, Civitas Learning helps partner institutions bring deep insights to decision makers, and personalized, real-time recommendations directly to the frontlines for students, faculty, and advisors to measurably improve student learning, persistence, and graduation. Civitas Learning serves more than 40 partner institutions and systems in higher education that enroll more 1.45 million students across 577 campuses. Civitas Learning is based in Austin, Texas. For more information, visit: http://www.civitaslearning.com or email partnerships(at)civitaslearning(dot)com.